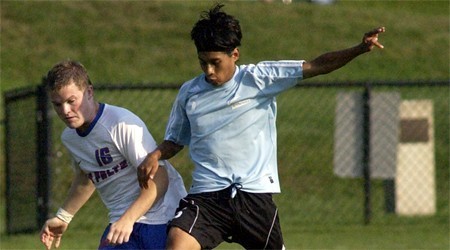 For the second time this season, the College of Staten Island men's soccer team followed up a gritty, one-goal, win with a tough loss the other way, this time falling to SUNY-New Paltz in a neutral site game played at Bard College, 2-1, to even their early season record to 2-2.  The Hawks improved to 1-1-1 with the win, outshooting CSI, 20-6, to take the win.
Despite being out-shot, 8-1, in the first half, the score was deadlocked at 0-0 after the first stanza.  Ahmed El-Ghareib who went the first 180 minutes between the pipes without surrendering a goal had another clean sheet through the period, turning back four New Paltz shots.
The scoreless streak would not last long in the second half, however, as the Hawks were able to strike just 2:15 into the second frame.  Going on the attack, Mike Jacobsen found an open Javier Ventas, who threaded a ball into the goal mouth through the air that Casey Terramoccia headed into the back of the net for the go-ahead goal.  That gave the Hawks a 1-0 edge, but no sooner was the celebration of the goal over before an opportunistic Dolphins team fired back.
Just 53 seconds later, a critical turnover deep in the New Paltz end saw CSI's Ahn Le converge onto a loose ball and sail a bending rainbow ball over NP keeper Andres Montoya, to make the score, 1-1.
CSI had five of their six game shots in the second frame, but it was New Paltz that also was relentless, pasting 12 shots of their own in the frame, five on goal, until finally, with 9:43 left to play, Joseph Hughes got the Hawks ahead for good.  Hughes did it unassisted, racing passed two CSI defenders managed to put a 15-yarder in behind El-Ghareib from the left side, giving the Hawks all the insurance it would need in the 2-1 game.
Montoya picked up the win, making only a single first-half save.  CSI was out-shot 10-2 on goal, and yielded 9 corner kicks to their one.  Ventas picked up a yellow card for the Hawks, as did CSI's Giovanni Cortese in the first half and Brandon Cadmen in the second frame.
CSI will next be in action on Sunday night, when they face Montclair State University at 7pm in Upper Montclair, New Jersey, as part of continued non-conference play.