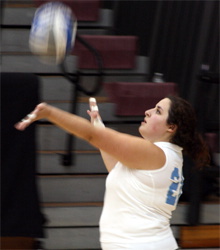 The College of Staten Island women's volleyball squad fell for the second straight time to open the season, succumbing to St. Joseph's College (LI), 3-0, in a non-conference contest played at the Danzi Center in Patchogue, New York.  Individual scores were 25-14, 25-18, & 25-20.  SJC improved to 1-0 with the win while CSI fell to 0-2.
The Dolphins got better with each game, but the Eagles were up to the task in each contest, spreading out 27 kills next to just 17 errors over the three sets to grab the shutout.  CSI meanwhile couldn't seem to strike early, registering only two kills in the opener and only four in set number two.  The Dolphins connected on a crisper .120 attack percentage in the final set, but SJC also posted their best set as well, connecting on a .290 percentage, scattering 11 kills next to just two errors.  Victims of 17 receiving errors in their opening game, CSI posted another 16 tonight, adding to the frustration.
SJC was paced by Heather Ferchland's eight kills, while Julienne Tierney posted a healthy 23 assists.  Tiffany Wilms added seven aces while Ashley Larrea led defensively with 10 digs.  CSI was aided by sophomore Pola Poskrobko's five kills, adding a team-high three assists.  Freshman Brittany Minondo led with 10 digs, with Jennifer Samuel adding 9 in the loss.
CSI will next be in action on Saturday to open up conference play.  The team travels to York College and will play City College of New York at 11:30am followed by a tilt vs. Medgar Evers College at 3:30pm.