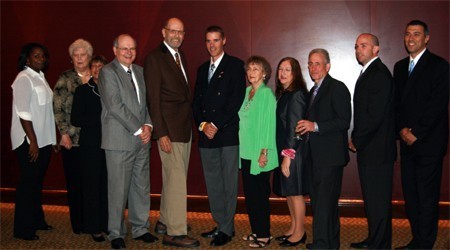 On a night over 55 years in the making, the College of Staten Island honored seven individuals last night as part of the first-ever Hall of Fame induction class in a ceremony held at the Hilton Garden Inn.  Recipients Ira Sweet, Elizabeth Zwingraf, Evan Pickman, John Cali, Jacclyn Rock, Jeff Benjamin, and Sonny Grasso were the honorees, representing a total of 150 years of service as administrators, coaches, and student-athletes.  The rousing event featured a cluster of guest speakers over a full dinner, with words from each of the honorees or their families.  The evening will be featured today in the Staten Island Advance and later tonight on NY1 News.
With many of the guests having not seen one-another in many years, the beginning of the Hall of Fame dinner was a chance for many to catch-up, share anecdotes, and reflect on the meritorious years of service of the inducted.  The evening commenced with words from Associate Athletic Director David Pizzuto, who served as Hall of Fame Committee Chairperson and host, followed by Director of Athletics Vernon Mummert, Vice President for Student Affairs Dr. Ramona Brown and CSI President Dr. William Fritz.  Shortly thereafter, the hardware was issued to the seven guests of honor.
First to the stage was Elizabeth Zwingraf.  A coaching guru at the College since 1970, she received her induction from current CSI Women's Softball coach Dr. Stella Porto, who gave way to two-time women's softball Olympic gold medalist and ESPN analyst Michele Smith, who was quick to cite Zwingraf as the motivating force behind her success.  In a tremendous show of appreciation, Smith presented her two gold medals to Zwingraf, prompting one of many standing ovations in the evening.  Having coached cheerleading, volleyball, basketball and tennis at Staten Island Community College and CSI, Zwingraf true labor of love was on the softball diamond, where she spent 21 years as both a head and assistant coach, winning five CUNYAC titles and coaching five CUNYAC MVP pitchers.  She retired in 2012, having spent the last six seasons as an assistant with one of CSI's most successful programs.
Next to be inaugurated was the late Sebastian "Sonny" Grasso, who received his inauguration from his daughter Judy.  The only CUNYAC coach to win a championship in both baseball and softball, Grasso was best known for his gregarious personality and his willingness to serve, pioneering the school's intramural programming alongside his many other duties.  His daughter was quick to cite Sonny's work with youth at CSI and beyond, instilling the leadership and life lessons often associated with organized sports at the college level.  After her words, Sonny's wife Teresa and daughter Janis joined Trancucci on the stage to unveil the inauguration to a rousing ovation.
CSI runner extraordinaire Jeff Benjamin was next to be cited.  Inaugurated by Staten Island legendary runner and coach Bill Welsh, Benjamin was cited for his extraordinary leadership in helping build the cross-country and track programs at CSI.  Still extremely active on the running circuit today, Benjamin has become synonymous with Staten Island racing and running, serving on multiple boards and councils to enhance the sport.  On the pitch, Benjamin was a cornerstone to the program, excelling over a four-year career which saw him serve as captain through the duration of his career, breaking multiple records, accumulating CUNYAC medals and NCAA citations.
Men's basketball hoopster John Cali was next to be honored.  The two-time CUNYAC champion was inaugurated by current CSI Men's Basketball coach Tony Petosa, who cited Cali as the measuring stick with which to compare current players too.  The point guard was CSI's floor general from 1994-99, serving as the school's all-time leader in three-pointers while ranking near the top in points, assists, and steals, winning two CUNYAC Tournament MVP honors in the process.  Cali was quick to thank his family, coaches and teammates for his achievements, citing his years at CSI as a positive influence on his life.
From player to coach, men's basketball was noted again during the inauguration of Evan Pickman, who had two stints as head coach at both SICC and CSI, amassing a near-.750 winning percentage the best all-time at the school, complete with four CUNYAC Championships and three trips to the NCAA National Tournament.  Pickman was inaugurated by dear friend and colleague Joel Berger, who was also quick to mention Pickman's role as an educator being just as impressive.  Pickman, who retired in 2008 from the faculty, humbly accepted the award, thanking the many in attendance that assisted in making the college a backdrop to his life for over 35 years.
Jacclyn Rock, who dominated the women's basketball scene from 2001-05 was next to the stage, inaugurated by her sister, Syreeta.  The school's all-time leading scorer and rebounder, Rock was quick to note how playing basketball at the school served as structure in her otherwise hectic and sometimes displaced life on the east coast, having travelled from California with family at the time.  The first college graduate in her family, Rock thanked her personal cheering section for carrying through her undergraduate career, and much like her playing career, the humble Rock seemed in awe of her own accomplishments, which included CUNYAC Rookie of the Year and two Most Valuable Player honors.
Finally, the headline of the evening was delivered by pioneer Ira Sweet, who beginning in 1959, helped shape the SICC and CSI programs into what they are today.  Inducted by his dear friend and former student-athlete Jay Chazanoff, Sweet was SICC's all-time winningest basketball coach, collecting 107 wins with the men's basketball team while also serving three years as first-ever soccer coach.  But perhaps more than that, Sweet wore just about all of the other hats: from trainer, academic advisor, chairperson of the Physical Education department and later CSI Athletic Director.  He was a part of two ground-breaking initiatives, helping aid the college during SICC's move from St. George to Sunnyside, and later, CSI's move from Sunnyside to Willowbrook, where he direct oversight to the architecture of the Sports & Recreation Center and its surrounding facilities.
Alongside the speeches of the inducted, CSI Athletic Director Vernon Mummert did send greetings from the podium welcoming several other former CSI Athletic Directors in attendance, including current Iona College Athletic Director Eugene Marshall, Jr., Drew University Athletic Director Jason Fein, and current commissioner of the New Jersey Athletic Conference Terry Small.
The Hall of Fame proved to be a magical evening for many of the guests, and for the honorees, the focus seemed to be less about the induction and more about the College's historical significance.
"This is a night that was long overdue," said Pickman.  "To be a part of the first class is truly humbling, but we've heard many times of the ideas to start a Hall of Fame but just to be here and be a part of it is very rewarding."
Alongside the inductees receiving hardware, the same plaques, complete with telling bios will hang in the CSI Sports & Recreation Center as part of the new Hall of Fame walk, located on the upper concourse of the basketball arena.  The plaques will be unveiled on Friday, in time for CSI Volleyball's contest with Cooper Union at 7pm.