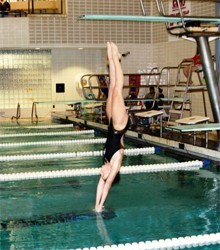 College of Staten Island women's swimming and diving team captured their second win of the season with a 147-78 victory over SUNY-Maritime on Tuesday evening. However, on the men's side Maritime took a lopsided 159-67 win.
Vasiliki Stergiuola started it off for the women with a first place win in the 1000 Freestyle with a time of 14:04.25. Adrianne Vivas took two golden victories in the 200 Freestyle at 2:23.50 and the 500 Freestyle at 6:26.67. Stephanie Collyer captured first in both diving events while Jessica Pifalo saw first in the 100 Backstroke with a time of 1:10.22.
On the men's side, Yury Zimarev touched in first in both the 50 Freestyle (22.92) and in the 100 Butterfly (54.51). John Pignatelli also captured both win in the men's 1M and 3M diving events.
Coach Mike Ackalitis is proud of his team's efforts, "I'm excited we are moving forward in a positive direction and I'm looking forward to seeing our growth the rest of the season."
The Dolphins are back in action on Monday, December 3, as the women take on John Jay College. The men and women will then race together on Wednesday, December 5, at Brooklyn College.