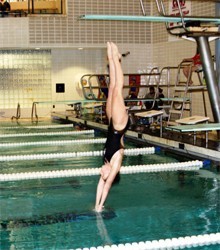 The Dolphin women captured a 172-45 over the Lehman College Lightning while the men dropped their end 149-90. The women extend to a 7-1 record while the men fall to a 2-4 record.
The women dominated the first place spot in all but one event. Jessica Pifalo took first place in the 200 Freestyle with a 2:17.61 finish and a 1:11.34 finish in the 100 Butterfly. Her teamate Vasiliki Stergioula also took two wins; the 50 freestyle with a time of 29.21 and the 100 freestyle with a time of 1:06.60.
Andrey Tarasov captured two wins for the men in the 200 Yard IM with a time of 2:01.32 and 1:00.64 in the 100 Backstroke.
Both John Pignatelli and Stephanie Collyer captured first place in the 1M and 3M divining events for the men and women.
Both teams are back in action on January 15, for a 6:00 pm meet at Adelphi University.