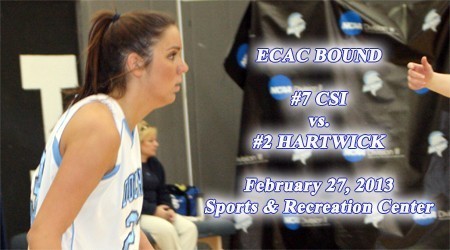 The College of Staten Island women's basketball squad is heading back to the ECAC postseason for the first time since 2008-09 season, earning the No. 7 seed in the eight team field in the ECAC Metro NY/NJ Postseason Tournament. The Dolphins will face No. 2 Hartwick College in the quarterfinal round. Despite being the lower seeded team, CSI will host the game at the Sports & Recreation Center. Game time is set for 6:00pm. CSI will be the visiting squad on the floor.
The eight-team draw features one other CUNYAC squad, as Brooklyn College earned the field's top seed, and will host No. 8 Purchase State. In other quarterfinal games, No. 3 Rutgers-Newark will host No. 6 Stevens Tech, and No. 4 College of Mt. St. Mary will take on No. 5 Ramapo College.
The ECAC quarterfinal between the Dolphins and Hawks will serve as the first-ever meeting in program history for both teams. Hartwick has finished an impressive campaign, finishing 19-8 overall, falling to Ithaca College in the Empire 8 Championship Final, 47-29. CSI finished 16-11 this season, falling in the CUNYAC Semifinals to Brooklyn College nearly a week ago. Normally, the top four seeds host the quarterfinal round of competition, but the game was moved to Staten Island due to facility conflicts on Hartwick's Oneonta campus. Tickets to the event will be free for all spectators.