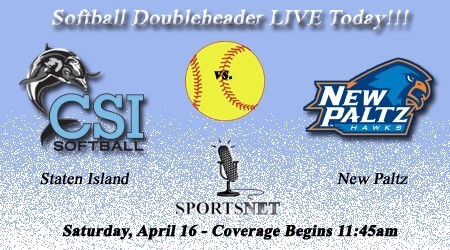 After a pair of rain-outs to open the season, the College of Staten Island softball team looks like it is ready to finally take to the field. CSI will be hosting New Paltz this afternoon in a non-conference doubleheader beginning at 12:00pm. Both teams are beginning their season today, and although there will be a chill out there, spring fever is officially in the air. Admission to all CSI home games are free, but if you can't make it to the games today, you can listen live via CSI SportsNet. A direct lnk to the game is available here: www.csidolphins.com/live. CSI SportsNet's Michael Baybusky will be live behind home plate with the call beginning at 11:45am.
CSI is coming off the heels of a 17-20 season in 2012, one that did see them advance all the way to the CUNYAC Final. They return five faces to the squad from a year ago, including defending CUNYAC Rookie of the Year Brittany Smith, and also see a total of 9 new faces, all expected to play a major role this season.
New Paltz leads the all-time series with CSI, 6-5, but this will be the teams' first meetings since the 1999 season.