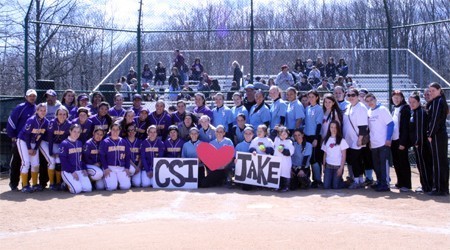 On a day when both the College of Staten Island and Hunter College Softball teams were raising awareness and money for Jake Schron and the Heart 4 Jake Foundation, the Dolphins took a sweep over the Hawks, coming from behind to score a 4-3 winner in the opener before racing out to a 10-2 win in the later game in the conference opener for both teams at the CSI Softball Complex. The Dolphins raised their records to 4-5 overall and 2-0 in CUNY, while Hunter fell to 2-12, 0-2, respectively. Today's program helped raise funds on behalf of Jake Schron and his family. A week ago today, two-year-old Jake received a new heart from a donor family and is currently recuperating at Montefiore Hospital.
The great crowd that gathered for the event was treated to a terrific opener, as the teams battled throughout. Both teams would score in the first inning to set the stage. The Hawks touched CSI starter Victoria Procopio early, using Holly Isenberg and Julia Lipovac RBI singles, but Procopio got out of a two-on jam to keep the Dolphins within striking distance. In their turn in the first, CSI got a run back off of HC starter Angelica Iacovetti on a Christina Tufano sac fly that scored Brittany Smith, who opened the frame with an infield single.
The pitchers settled from there and the next three frames were scoreless until Hunter added an insurance marker in the fifth inning. There, Sophia Ponce drove a sac fly to score Molly Meehan, who led off the inning with a single. Iacovetti worked the Dolphins quickly out in the fifth but then ran in to trouble in the sixth.
Danielle Locke started the CSI inning off with a single, and was sacrificed over to second base by Taylor Kaplan. Alissa Setteducato then legged out what was meant to be a sac bunt and there were runners at first and third. Chyanne Gilliam was next, and she too laid down the bunt, scoring a run as Hunter's only play was at first base. Still, CSI was down 3-2 going into the seventh. Procopio got HC down 1-2-3, and the Dolphins then chipped all the way back down to their final three outs. Procopio aided her own cause, lacing a triple to center field. Stefanie Solari then tied the game with an RBI groundout to shortstop. Maxine Jasko was up, and she was able to advance and take second base to due to error. One batter later Christina Tufano lined a single to left field, scoring Jasko for the game winner, CSI's first lead of the game.
CSI out-hit Hunter, 8-6, and were aided by three Hunter errors that led to two unearned runs. Procopio scored the win, allowing three earned runs on six hits, fanning one and walking two. Tufano and Gilliam had two hits apiece.
In the second game, again Hunter jumped on top early, this time taking a 2-0 lead after the first inning, aided by a pair of CSI errors. The Dolphins, however, got even, and then some, with a monster eight-run, eight-hit inning off of HC starter Erika Colangelo. Procopio, Solari, and Jasko all garnered RBI-doubles in the frame. Another Solari RBI single in the fourth, coupled with a sac fly by Tufano, gave CSI a 10-2 lead, and relief pitcher Procopio, who had come in in the third inning, got HC down in the fifth to halt the game after five innings.
CSI was excited about the doubleheader sweep, but it paled in comparison to what the programs did for the Schron family, who had several members in attendance at the games. Through t-shirts, raffles and other novelties and concessions, the group raised over $2,000 for the cause, but even more than the money, the outpouring of support was clearly evident, as many CSI teams and even members of the Hunter College Student-Athlete Advisory Committee was on hand to help out, making it a true team effort.
Now on a two-game win streak the Dolphins will be back in action on Wednesday, April 3, when they take on St. Joseph's College (LI) for a doubleheader at 5:00pm.