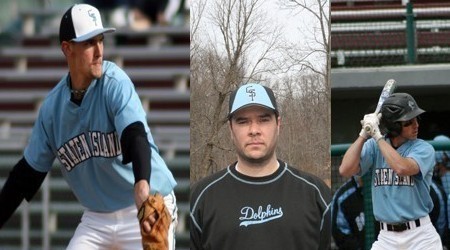 Staten Island, NY – After a successful 2013 campaign, the College of Staten Island baseball team found themselves loaded with post-season awards as Head Coach Mike Mauro earned Coach of the Year, Richard Anderson was named Pitcher of the Year, Daniel Lynch garnered the Sportsmanship award and eight others  were named to a CUNYAC/MCU All-Star team, Thursday.
"It's a great honor to receive the Coach of the Year award from CUNYAC because I am very aware of the caliber of coaches we have in this conference," said Head Coach Mike Mauro.  "The award comes across as an individual honor but there is no way this would happen without my five assistant coaches and the makeup of the team we had."  
Mauro was named Coach of the Year after leading the team to its 16th postseason championship after earning 30 wins for just the second time in school history.  In his five seasons, he owns an all-time record of 124-80, for a winning percentage of .608, and ranks second in the record books for the most wins in school history.
After leading the Dolphins to a 3-2, 12 inning win over Jay John College in their first game of the tournament, only to push CSI to a 1-0 win over Baruch in the conference title game three days later, Anderson was named CUNYAC Tournament Most Valuable Player. This season, the senior set both the single-season wins (9) and complete games (8) records.
"This being my last year of college baseball, it means a lot to win this award and the CUNYAC Championship," said Anderson. "I really wanted to close my career on a good note and going out the way we did with a championship, and with setting the CSI records, is something I can share with my teammates as a real positive for all of us."
Lynch has been an incomparable leader for the Dolphins for the last four years.  He is a quiet leader, but nevertheless is very powerful, leading through example and presenting an unrivaled work ethic. This season, Lynch batted .256, stole 24 bases and was a defensive force in the outfield with a fielding percentage of .930. He is a terrific ball player whose presence will be missed both on and off the field.
Of the 13 possible positions on the CUNYAC/MCU All-Star First-Team, the CSI baseball team comprised seven of those spots, while another Dolphin was named a member of the CUNYAC/MCU All-Star Second-Team. The College of Staten Island dominated the awards list with 11 total award winners, while conference foe Baruch received seven.
Dolphins receiving CUNYAC/MCU All-Star First-Team nods include Bryan Moreno, John Baggs, Robert Bernardo, Chris Ramanauskas, William DiFede, David Carles and Michael Fitzpatrick, while shortstop Joseph Palmeri was named to the CUNYAC/MCU All-Star Second-Team.
Moreno was a major contributor at the plate this season, batting .374 and boasted a slugging percentage of .466 on the season, both of which were the second highest on the team. On base he was a real threat on as he led the team with 24 stolen bases and was a team leader with an on-base percentage of .500. He was no slouch in the field either with a .992 fielding percentage.
Baggs was named a CUNYAC Rookie of the Week early in the 2013 season which was indicative of what was to come of his freshman campaign as he made eight appearances for the Dolphins, which included six starts. The rookie went on to pitch 39.2 innings and managed to strike out 25 batters, while walking just six to post an ERA of 3.86 and earn an overall record of 2-1.
During his senior season, Bernardo was one of just two players to start all 42 games for CSI during the 2013 season. The infielder finished the year with 39 hits, 31 RBIs and 54 total bases.
With a team-high 58 hits and 42 runs scored, junior Ramanauskas has become an integral part of the Dolphins lineup. In addition to leading the team in batting (.406), slugging (.552) and on-base (.500) percentage, he recorded a team-high 14 doubles, two triples and knocked in 36 RBIs.
No one has scored more all season, than Difede. The sophomore not only scored 31 runs of his own, but hit a team-high 43 RBIs. On the year, the Staten Island native hit .340 and registered a slugging percentage of .418.
Only a freshman, Carles made an impact for the Dolphins. He started in 26 games and boasting a .309 batting average. He tallied 17 RBI's and totaled 30 hits on the season. His speed was apparent as he stole 21 basses. Playing the outfield, he had a .932 fielding percentage.
With 12 appearances, including six starts and two complete games, Fitzpatrick finished his rookie season with an impressive overall record of 6-2. The freshman pitched a total of 48.0 innings, allowing just 47 hits and struck out 50, all while walking just 14 out of 183 batters. His efforts allowed him to finish the year with an ERA of 3.00.
Rounding out the award winners was Palmeri who started all 42 games for CSI at shortstop. The freshman recorded 40 runs, 42 hits, 20 RBI's and had 10 stolen bases on the year. He ended with a batting average of .284.
"Our all-stars truly show how talented we were this year and to be able to coach them was a great experience," Mauro added. "Without them, there is no chance of us having the kind of success we have had."
The Dolphins ended the 2013 season with a win 1-0 win over Baruch at the CUNYAC Championship, to finish the year with an overall record of 30-12. This marked the third time in the last four years that CSI baseball has won the conference title.