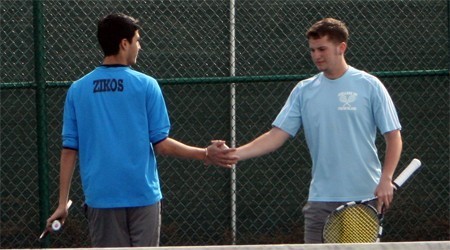 Staten Island – The 2013 CUNYAC/Hospital for Special Surgery Men's Tennis All-Stars have been announced and the College of Staten Island held five of the coveted 12 spots. Freshman Hector Molina and junior Nick Zikos were named to the First-Team, while Kolachok Chuenpratum, Timur Shamuradov and Daniel Ursomanno all garnered Second-Team honors.
Although new to the scene, Molina proved to be a force on the court and earned himself a CUNYAC Rookie of the Week accolade early in the season. He remained on the conference radar and went on to post an overall singles record of 10-6, while owning a 5-1 CUNYAC record while competing between the second and fourth flights. He was even more successful in doubles, as he went 9-8 overall and 4-2 in conference between the first and third flights.
Former CUNYAC Rookie of the Year, Zikos makes his second-straight appearance on the all-star first-team. This season he posted a 10-6 overall record and a 6-1 CUNYAC record in singles as he played in the first flight. In doubles he shined as well as he went 11-7 and 6-1 in conference while competing between the first and second flights.
Chuenpratum completed his freshman campaign with a singles record of 9-4 ranging from the No. 4 & 5 flights. In the doubles play, he competed between the second and third flights and earned a record of 5-7.
Junior Ursomanno closes 2013 with a 12-4 singles record where he ranged from the No. 1 to 3 flights. The junior put together an 11-8 record in doubles.
Shamuradov earns his first nod from the conference after finishing the year with a singles record of 11-3, where he ranged from the No. 1 to 3 flights. The sophomore went 4-8 in doubles play on the year.
The Dolphins finished their season after being defeated by Baruch College, 5-1, in the CUNYAC Postseason Championship. CSI finished the season with an 11-8 overall record and were 7-2 in conference play.