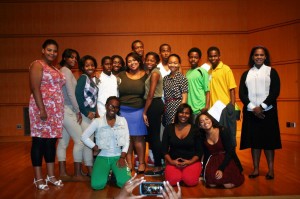 Although most students feel it is enough to attend class during the semester and relax over summer break, there are many Staten Island high schoolers who believe in getting the most out of their education.
The College of Staten Island's Dreamer's Academy, established as a part of the Liberty Partnerships Program, which was created in 1988, offers workshops during the Fall, Spring, and Summer sessions designed to allow students in grades 7 through 12 to further develop valuable skills necessary to fulfill their New York State standardized testing requirements.
To take advantage of the resources that the College of Staten Island has to offer, Dreamers Academy workshops are taught on campus by certified teachers and college professors that have experience teaching students at all levels, with emphasis placed on developing study and observation techniques, writing, critical thinking, leadership, and teamwork.
[youtube]http://www.youtube.com/watch?v=oSMIzJr8hH8[/youtube]Drawing from several Staten Island High schools, the CSI Dreamer's Academy consists of approximately 30 students per session who attend workshops in order to build various skills that they will need in order to be successful in school and beyond by offering them what Liberty Partnerships Program Director Shawn Landry calls "academic and cultural enrichment."
This summer, students attending Dreamer's Academy have been taking part in essay-writing workshops as well as set design and acting.  Each session revolves around a particular theme; this session's being the 1950s, which has students rehearsing dialogue from an original play about the life of Emmitt Till written by Niambi Keyes, a professor with the dance department for 14 years. Students then focus on the historical impact of the Emmitt Till story, writing essays, watching films set during the same time period, and finally designing sets for the play. Students also practice public speaking and financial literacy, where they learn how to file taxes or create a résumé —all skills that they will need once they are full-fledged members of the workforce.
It is, as Shawn Landry puts it, "like a buffet; the students take what they need."
The students are indeed taking what they need. During one rehearsal, Ruth Sproul, a recent Curtis High School graduate who will be attending The College of St. Rose in Albany in the fall and is playing Emmitt Till's mother, was struck by the changes that our society has undergone since the 195os. "It was very interesting learning how young Black people were treated in the 1950s and how women working in factories were treated." Ruth, who will be studying medical technology at St. Rose, claims she attended this summer's Dreamer's Academy because "she wanted one more year with the Academy."
A senior at Petrides High School, Moet Askew, a three-year veteran of the Dreamer's Academy, claimed that the program has helped her "better myself, education wise—writing essays has become much easier and if I need help with my other subjects there is always someone there to tutor me."
Dreamer's Academy would not be as successful as it is if all that the program did was help students with their grades. The students also take trips and go on tours together such as a recent tour to a college campus in upstate New York where the students worked on activities that helped them build teamwork and self-esteem.
While discussing what she thinks makes the Dreamer's Academy so effective, Landry explained what her students are expected to learn. "The students work on the basic common core skills that they need to graduate from high school and be prepared for college as well as taking a more in-depth look at a historical event through a more diverse lens." She went on to say that Dreamer's Academy "empowers students of today to be tomorrow's leaders."
Along with Dreamer's Academy, Liberty Partnerships also sponsors the Summer Youth Employment Program, which supplies Staten Islanders from the ages of 14 through 24 with the opportunity to work up to 25 hours a week, and many of these students work on the CSI campus. In conjunction with the Dreamer's Academy, the Summer Youth Employment Program gives students valuable references for jobs and college applications.
The Liberty Partnerships Program is less like a buffet as Landry put it and more like a smorgasbord, and local Staten Island students are eating their fill.