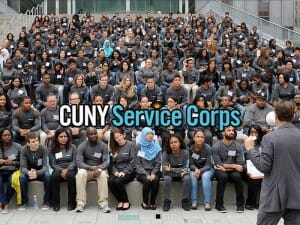 The College of Staten Island has launched its second year of student service in the non-profit sector with the CUNY Service Corps.
While participating in the program, students will be building professional skills by engaging in work that addresses the City's most pressing needs.
Local not-for-profit organizations will benefit from having professionally developed and  high-performing student interns in the workplace.
Registration for the 2015-2016 program closes soon:
Student priority registration ends March 1, 2015. Application closes March 15.
Community Partnership registration ends March 20, 2015 for interested not-for-profit organizations.
A primary goal of the Service Corps is to create opportunities for students to be civically responsible while advancing their educational goals and working toward choosing a career. The opportunity allows students to serve as stewards of CUNY, CSI, and their communities as they promote active citizenship, community engagement, and social responsibility.
For the 2014-2015 program, 110 students from CSI worked at 37 community partners across the City, with 66 students serving at 15 partner sites on Staten Island, which included The Staten Island Chamber of Commerce, Snug Harbor Cultural Center, Staten Island University Hospital and the YMCA.
"The CUNY Service Corps has enhanced our internship program by taking an experiential learning experience into the community, benefiting both students and our partners," noted Caryl Watkins, Director of the CSI Career and Scholarship Center. "It's a win-win for everyone and a truly exceptional program. CSI is proud to be one of the CUNY schools invited to participate."
[youtube]http://www.youtube.com/watch?v=J6z9bFPyXtE[/youtube]"This experience allowed me to explore a different avenue in the field of history—museum curating and conservation," commented Abeer Husein about her work with the Art Department at the Staten Island Museum. "My experience at the Staten Island Museum through the CUNY Service Corps has certainly benefited me in learning how to behave and perform efficiently in a fast-paced work environment. There is not one particular task assigned to each person at the museum, everyone is constantly doing something different, and this experience has allowed to be adjust to the different tasks assigned to me."
"It is important for students to be aware of the connection between their academic learning and real‐world experiences, "commented Cheryl Barzey, CUNY Service Corps Manager with CSI's Career and Scholarship Center, adding that it is "invaluable to gain workplace skills that will improve their employment prospects after graduation."
Steve Arriaga, who worked with Lifestyles for the Disabled, explained that he is most proud of the opportunity "to teach French to highly enthusiastic participants," adding, "I aspire to be a college professor someday, so having the ability to teach the language that I love is priceless. I feel a sense of joy and pride whenever I hear someone speak French because I know that I'm influencing the lives of others, and I couldn't ask for anything more."
In order to be eligible, full-time students must be working toward a bachelor's or master's degree, and have a minimum 2.5 GPA with at least 24 college credits earned. The application process involves filling out an online application, writing a short essay, and submitting references, as well as participating in a group interview.
[youtube]http://www.youtube.com/watch?v=LaAu_Y62uys[/youtube]The College of Staten Island is one of nine participating colleges currently accepting applicants into the CUNY Service Corps, a program that mobilizes CUNY students, faculty, and staff "to work on projects that improve the short- and long-term civic, economic, and environmental sustainability of New York City and of its residents and communities."
More than 800 students were accepted into the CUNY Service Corps last year and approximately 350 new students will be accepted into the program for a 12-hour-per-week, 24-week-long project for the Fall 2015-Spring 2016 academic year in which they will be paid $12 per hour through CUNY and have the opportunity to earn credits toward their degrees.
Students who are accepted into the CUNY Service Corps will attend monthly professorial training and development workshops and will work with one of the 111 selected organizations that serve as community partners/placement sites. The range of organizations includes after-school programs, arts organizations and museums, government agencies, criminal justice/prisoner re-entry organizations, economic empowerment organizations, groups serving older adults, environmental organizations, hospitals and other medical facilities, immigrant-serving programs, libraries, public health organizations, K-12 schools, and parks/wildlife organizations.
The program's beginnings lie in the aftermath of Superstorm Sandy when Chancellor Emeritus Matthew Goldstein first announced plans to form the CUNY Service Corps in November 2012. Two years and more than 800 students later, the inaugural year of the CUNY Service Corps culminated with the First Annual Service Conference.
The program is organized around four themes that represent both opportunity and need in NYC: health, education, green sustainability, and economic development. Students who participate in the CUNY Service Corps gain professional skills and experience, and increase their opportunities for career exploration and expanding their networks. They also serve as ambassadors for CUNY.
Arif Ullah, Director of Programs at the Citizens Committee for New York City, noted that the Service Corps members assigned to the organization "are intelligent, responsible, thoughtful, and diligent, allowing [the organization]—a small nonprofit—to increase [its] capacity and be a more effective organization."
For student and community partner registration, as well as complete program details, visit www.cuny.edu/sites/servicecorps/.