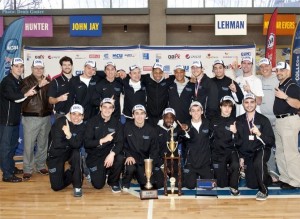 The College of Staten Island men's swimming and diving team won their first CUNYAC Postseason Championship in nearly a decade today, taking home the conference's championship final on the final day of competition at Lehman College this afternoon.  CSI scored 971 points, 79.5 more than second-place Lehman College for the championship victory.  The CSI women placed third on their side of the ledger, scoring 607 points as Baruch College took top honors with 973 points.
Winning the postseason championship meet has proved difficult for the Dolphins in the past, despite winning four Regular Season titles and appearing in six NCAA Division III National Championships since their last postseason title, but the Dolphins made good today, and led wire-to-wire at this year's championship, which began Thursday at Lehman.
It was a fitting end for the Dolphins, as true to form, they took home every first-place finish today.  First to the finish line was Timur Rakhimov, who earned the first of three gold medals for him today in the 1,650-yard Freestyle, cruising in at a time of 18:31.53, almost 23 seconds faster than the rest of the pack.  Freshman Stephen O'Driscoll earned valuable points as well, finishing fourth, just missing a medal of his own.
Next up for CSI was another winner of three gold medals today, junior Danila Novikov, who punched through a time of 1:59.38 in the 200-yard Backstroke to win that event.  Chris Pinto placed fourth in the event with a great personal time of 2:13.75, while Sergio Miranda placed right behind in fifth place.  One event later, Novikov made it two-for-two, winning the 100-yard Freestyle with a time of 48.29.  Freshman Derek Villa placed fourth in the same race, earning valuable points.
CSI wasn't done there.  Rakhimov then won his second gold with a 2:13.20 faring in the 200-yard Breaststroke, winning by over seven seconds, and in the men's next event, Yury Zimarev posted an over 11-second win in the 200-yard Butterfly with a time of 2:03.00, as O'Driscoll came in fifth in the same heat.
Finally, with the meet in hand, CSI ended things fittingly with a first place run in the 400-yard Freestyle Relay, raced by Zimarev, Rakhimov, Novikov, and freshman Tim Sweeney.  For CSI it was their 19th first-pace finish out of 20 meet events.
CSI Head Coach Michael Ackalitis, who took over the squad midway through the 2011-12 season, was awestruck by his team's performance today, and was incredibly proud of his team after the meet.
"We knew it would be a close race going in, but our goal was on consistency and hard work," he said.  "We knew we could do something special and do something that this program hasn't done in some time.  We did exactly what we needed to do and it's a testament to the hard work and determination of our guys.  They didn't just deserve it, but they earned it out there."
CSI posted 971 total points.  Lehman took the silver, scoring 891.5 points, while Baruch finished third with 711 points.  Brooklyn College finished fourth at 549 points, followed by York College with 293.5 markers.
For the Dolphins, the Championship win is their fifth in program history but their first since 2005, back when they won four Championships in a row.  Now, with the Regular Season and Postseason Championships unified, CSI will focus on the Metropolitan Swim Championships in two weeks.
***
Over on the women's side, the team had plenty to cheer about.  The Dolphins earned a medal in the 200-yard Breaststroke, where sophomore Dakota Dawkins earned silver with a 2:35.65 performance.  Freshman Samantha Escobedo narrowly missed medaling, placing fourth in the heavily-contested 100-yard Freestyle, coming in at 1:00.52.
Distance swimmer Kelly Walsh placed fifth in the 1,650-yard Freestyle, with Hunter Dawkins placing eighth and Caitlin McLoughlin 10th.  Walsh was also tops for CSI in the 200-yard Backstroke, placing seventh overall with a time of 2:45.90.  Lauren Overeem placed 9th there as well.
Overeem finished eighth and Jessica Pifalo 9th in 200-yard Butterfly competition before CSI finalized with a seventh and eighth place showing in the 400-yard Freestyle Relay event, the final one of the day.
Baruch won the event outright with a total of 973 points.  Hunter College took second place with 881 points, followed by CSI (607), Brooklyn (452), John Jay (356), Lehman (269) and York (14).