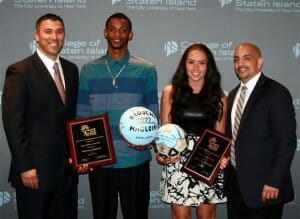 The College of Staten Island athletics program celebrated another great year that was this evening, dishing out over 60 awards at its annual awards banquet held at La Greci's Staaten in Staten Island, New York.  The annual event recognized the top performers and other distinguished award winners spanning CSI's 14 intercollegiate programs.
View the CSI Today Photo Gallery>
After greetings from Director of Athletics Charles Gomes and CSI President Dr. William Fritz, awards were given for each sport in chronological order beginning with teams last fall, and ending with women's softball, which finalized its season with a CUNYAC title and was one of three teams to advance to NCAA National Tournament competition.
Major awards were presented to Female Athlete of the Year Demi-Jean Martorano, senior from the women's soccer team, who decimated the record books, tying a team record for goals this season with 26, while easily compiling a career record for goals with 85 and points with 204.  The midfielder/forward earned CUNYAC Player of the Year honors this fall for the second time in her career.  CSI Basketball sharp-shooter Bloochy Magloire earned Male Athlete of the Year honors.  Magloire, a first-team CUNYAC All-Star led CSI basketball to its finest season ever at 28-3 overall, complete with the program's first ECAC title in 30 years.  Along the way, Magloire eclipsed the school's all-time point scoring record with 1,822 career markers.
CSI Scholar-Athlete of the Year honors was given to men's tennis star and senior Daniel Ursomanno.  A CUNYAC All-Star this season, Ursomanno was a finalist for the school's Valedictorian honor at Commencement and was named a CUNYAC Scholar-Athlete of the Year Honorable Mention, boasting a 3.96 GPA in Business Management.  Emmanuel Esperance Jr., Director of Recruitment and Admissions, also honored the CSI Women's Tennis team for posting CSI Athletics' highest Team GPA, at 3.47.
Andrew Pate, graduating junior from men's cross-country, was awarded the 9th Annual Bill Cali/John Scrivani Sportsmanship Award, named after CSI's former baseball skippers who earned similar honors from the Staten Island Advance in 2005.  CSI men's basketball head coach Tony Petosa, who won the same honor from the Advance in 2011, assisted in the presentation.  Pate, the CUNYAC Individual Champion at this year's championship helped deliver CSI the CUNYAC team championship, their first in program history.
CSI Bursar Michael Baybusky, a familiar voice of athletic programming on CSI SportsNet, was on hand to offer nearly 20 awards, bestowed to CSI student-athletes who earned yearly awards from the CUNYAC and ECAC, among other national agencies. Baybusky also noted the CUNYAC Scholar-Athlete of the Year honors held this same evening at John Jay College.
Honoring those outside the halls of athletics, the program honored Staten Island Advance sportswriter Jim Waggoner with its annual Distinguished Service Award, highlighting his 27 years of service to CSI and the sports community.
Midway through the ceremony, members of the CSI Student-Athlete Advisory Committee presented their fifth-annual G.L.O.V.E. Award to the CSI Men's Baseball Team for their model of Giving, Leading, Organizing, Volunteering, and Encouraging.
All told, the rousing event was a great success, according to David Pizzuto, Associate Athletic Director, principal organizer and host of the event each year.
"Our administration deserves a lot of credit for pitching in and making this night a great success," he said.  "Each year I'm amazed by the level of excellence our student-athletes exhibit, and today is a small token in showing how much we respect that."
Gomes, the driving force behind bringing the banquet off-campus to the Staaten this year concurs.  "This has been an outstanding year for our athletic department and I'm happy that we have the opportunity to honor the accomplishments of this impressive group of student-athletes," Gomes said. "They've represented the College of Staten Island extremely well on the field, in the classroom, and in the community. I'm looking forward to making next year even better."
An end-of-year highlight video, prepared by CSI Facilities Manager Anthony Avena was the highlight of the evening.  The video will be posted soon.  The CSI academic year will come to a close in the coming weeks, when Commencement will take place on May 29.
Award winners this year include the following:
Men's Soccer (3)
MVP – Alfonso Castaneda
Rookie – Jacob Szumanski
Coaches – Mubaric Ibrahim
Men's Basketball (3)
MVP – Bloochy Magloire
Rookie: Frankie Schettino
Coaches:  Matthew Van Manen
Men's Swimming (4)
MVP: Danila Novikov
MVD (Diver): John Pignatelli
Rookie: Tim Sweeney
Coaches:  Stephen O'Driscoll
Women's Swimming (3)
MVP: Dakota Dawkins
Rookie: Naomi Gaggi
Coaches:  Olivia Brown
Men's Baseball (4)
MVP – Joe Palmeri
Pitcher – Chris Falcone
Rookie – Josh Bernstein
Sportsmanship – Chris Moran
Women's Basketball (5)
MVP: Melanie Johnson
Rookie:  Alyssa Carlsen
Senior Award: Jaclyn Tocco
Co-Coaches:  Katelyn Hepworth
Co-Coaches:  Megan Myhre
Cheerleading (3)
MVP: Stephanie Davis
Rookie:  Brianna Spicer
COY (Cheerleader of the Year): Ashley Isaacs
Women's Volleyball (4)
MVP: Pola Poskrobko
Co-Rookie: Siobhan Granich
Co-Rookie:  Victoria Wong
Coaches: Jean Marie Lewandowki
Women's Softball (4)
Offensive MVP – Christina Tufano
Defensive MVP – Brittany Smith
Rookie: Jacqueline Cautela
Coaches:  Christina DeCarlo
Women's Cross-Country (3)
MVP: Victoria Barry
Rookie:  Rebecca Vidal
Coaches:  Ayat Odeh
Men's Cross-Country (3)
MVP: Andrew Pate
Rookie: Justin Mills
Coaches:  Kenneth Morella
Women's Soccer (3)
Co-MVP: Demi-Jean Martorano
Co-MVP: Samantha Wysokowski
Coaches:  Gabriella Romero
Women's Tennis: (3)
MVP: Sabrina Bragerton-Nasert
Rookie: Nozima Toshpulatova
Coaches: Michelle Kushnir
Men's Tennis (3)
MVP:  Daniel Ursomanno
Rookie:  Chris Pinto
Coaches: Ed Ruffe
Distinguished Service Award
Jim Waggoner
SAAC G.L.O.V.E. Award
Men's Baseball
Team G.P.A. Award
Women's Tennis, 3.47
Bill Cali/John Scrivani Sportsmanship Award
Andrew Pate, Men's Cross-Country
Male Athlete of the Year
Bloochy Magloire, Men's Basketball
Female Athlete of the Year
Demi-Jean Martorano, Women's Soccer
Scholar-Athlete of the Year
Daniel Ursomanno, Men's Tennis