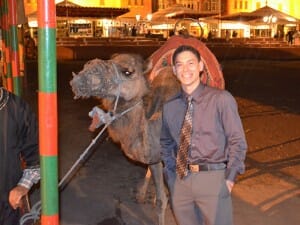 Blaze Fraser is graduating Summa Cum Laude with a 3.9 GPA from College of Staten Island's Verrazano School Honors Program. While studying at CSI, he conducted undergraduate research under the supervision of Dr. William L'Amoreaux, director of the Imaging Facility.
Blaze's research is focused on taurine, an effective osmolyte in the body, and its physiological effects on different tissues. This upcoming fall semester, he will begin attending the Rutgers School of Dental Medicine in pursuit of his long-term goal of becoming a dentist.
Blaze is the middle of five children, all born and raised in Staten Island. After Commencement, he will be the fourth College of Staten Island graduate of his family with the others including his mother Bernadette, brother Jerry, and sister Lauren.
He takes great joy in his family and faith and their influence on his personality, work ethic, and outlook on life. He is thankful to the College of Staten Island for allowing him to achieve through all of the exceptional opportunities presented to him.
[youtube]http://www.youtube.com/watch?v=LgJpEHOCLSM[/youtube]More about Blaze:
• Member and Treasurer, CSI Pre-Dental Association (2011-2013)
• Department of Biology/Imaging Facility – researched the effects of Taurine on RPE tissues under the supervision of Dr. William L'Amoreaux (Spring 2012, Spring 2014); created experimental set-ups; grew cell cultures and treated and examined them; trained to use various lab equipment
• Presented preliminary research findings at the 18th International Taurine Conference in Marrakech, Morocco (April 2012)
• Recipient, STEAM Scholarship (2011-2013)
• Recipient, Student Government Academic and Curricular Affairs Departmental Scholarship, 2012
• Part-time manager at Body Tan (2011-2013)
• Post-graduation Plans: Has been accepted to Rutgers School of Dental Medicine and will attend starting in Fall 2014.