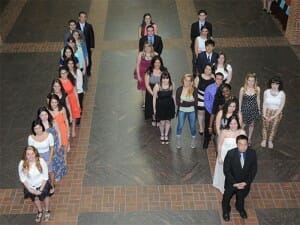 The Verrazano School Honors Program at the College of Staten Island held its fourth annual Verrazano Senior with 34 graduates in the Class of 2014 representing 18 different majors.
View the CSI Today Photo Gallery>
Verrazano graduates include Blaze Fraser, the 2014 CSI Valedictorian, and Elizabeth Krawczun, the 2014 CSI Salutatorian.   Six students are graduating summa cum laude, the highest Latin honor awarded to students based on cumulative GPA, and twenty-three students overall are graduating with Latin honors, indicating a cumulative GPA of 3.5 or higher.
As has become a Verrazano tradition, Professor Charles Liu, the multitalented Director of The Verrazano School, provided a live piano prelude before welcoming the graduates and guests at the start of the ceremony.  Dr. Fred Naider, Interim Provost and Senior Vice President for Academic Affairs, brought greetings on behalf of President William J. Fritz and congratulated the graduates on their many accomplishments while wishing them continued success in their future endeavors.
Salutatorian Elizabeth Krawczun, the graduate selected as this year's Class Speaker through an application process, reflected on the role of The Verrazano School in the lives of its students and encouraged her fellow graduates as they move into the next phase of their lives.
"We came to CSI to master a body of knowledge, " Krawczun remarked, "whether to learn the physiology of the human limbic system, interpret the poems of Tennyson, or study electromagnetic principles of a Faraday device, we entered college because we wanted to glimpse the possibilities of what we could achieve, and to imagine a life of successes and contentment. The Verrazano School helped us to do just that. Studying abroad allowed us to grow and experience new places and cultures, volunteering strengthened our sense of community and service and purpose, Verrazano Extracurricular Learning Activities (VELA) events taught us how to highlight our accomplishments and seek out new and exciting opportunities through interview and internship sessions, personal statement writing, and resume building workshops . . .
"Moving forward, we accept the responsibility to keep our minds open, to reflect on the possibilities of how we might live and understand ourselves, others, and the world. In translation, the Greek author Plutarch wrote, "What we achieve inwardly will change outer reality." This expresses our inescapable connection with the outside world, and the fact that we touch other people's lives simply by existing. Graduates, your intelligence, your capacity for hard work and the education you have earned and received, give you unique status, and great possibilities.  Recognize the great potential you hold in this competitive world. Success is never an accident."
The Verrazano School Honors Program strives to create a culture in which students not only achieve academic excellence in their courses of study but are well-prepared for graduate studies and professional success, and are connected to their local and global community through service and leadership.  The Verrazano Class of 2014 embodies these goals, and indeed their success is not accidental.  Over the past four years, more than two-thirds of the graduates participated in undergraduate research and scholarship.  Verrazano graduates have presented their research at venues including the CSI Undergraduate Conference on Research, Scholarship, and Performance, the CSTEP conference at Lake George, the CUNY Summer Undergraduate Research Conference (CSURP) in Manhattan, and the International Student Computer Cluster Competition in Salt Lake City, Utah.  Due to their academic excellence, Verrazano graduates have been inducted into the Phi Beta Delta International Honors Society, the National Society of Collegiate Scholars, Sigma Theta Tau International Nursing Honor Society, Phi Alpha Theta National History Honor Society, and Sigma Beta Delta International Honor Society for Business, Management, and Administration.   Students also participated in internships at organizations and companies including SiriusXM Satellite Radio, Staten Island Mental Health Society, YMCA, Staten Island University Hospital, Integrated Financial Services, and Clear Channel Media & Entertainment.
The connection to the local and global community through service and leadership was exemplified in the Verrazano Class of 2014.  Verrazano graduates explored the world through study abroad programs, conferences, and volunteerism in countries including China, Costa Rica, Dominican Republic, England, India, Italy, and Morocco.  The national average of college students studying abroad is approximately 2%, but nearly 30% of the Verrazano graduates had an international educational experience.  In addition, two students presented research at the International Taurine Conference in Marrakesh, Morocco in Spring 2012 and one student spent several weeks every year volunteering at an orphanage and school in the Dominican Republic.
Collectively, the Verrazano graduates completed more than 3300 hours of community service at organizations including public schools, Staten Island University Hospital, Eden II, Families Helping Families, Richmond University Hospital, Lenox Hill Hospital, the Staten Island Zoo, and numerous Verrazano and other campus activities.  Seven of the graduates were honored for their exemplary service to the community, and Angela Dauge, a Science, Letters and Society major, was specially recognized for completing over 650 hours of service at Project Homefront.
Many graduates were also involved in campus activities and served in leadership roles including Student-Athlete Advisory Committee President, officer board of the National Society of Collegiate Scholars, members of the Emerging Leaders Program, Men's and Women's Soccer teams, Swim and Diving Team, WSIA radio station, President of the Pre-Dental Association, Psychology Club, Accounting Club, and the Senior Class Gift Committee.
The broad reach of Verrazano students in the world was evident in an anecdote that Professor Liu shared during the ceremony.   Just a day before the Convocation, he was driving on a desolate Arizona highway on his way to a scientific conference.  While listening to the radio, he heard a familiar voice come over the airwaves.  Lauren Hornek, a Media Studies major in the Class of 2014, was live on the air on the "60s on 6" channel on SiriusXM Satellite Radio.  Lauren's tenacity and hard work landed her several internships at SiriusXM which ultimately led to her being offered a full-time position this spring.  Professor Liu shared that this is just one example of the impact that Verrazano students have outside the borders of the campus.
Many Verrazano graduates will continue their education next year, both locally and internationally.  Blaze Fraser, the 2014 CSI Valedictorian, will be attending Rutgers School of Dental Medicine, and Elizabeth Krawczun, the 2014 CSI Salutatorian, will be attending the University of Edinburgh to pursue a MSc in Medical Anthropology.   In addition, Verrazano graduates have been accepted to Doctoral programs in Physical Therapy at the College of Staten Island and Nazareth College; graduate programs in Accounting, Computer Science, Special Education, and TESOL at the College of Staten Island; and a Master's program in School Counseling at St. John's University.  Other graduates are taking the year off to study for the MCAT and LSAT before applying to medical school and law school for the fall of 2015.
The Verrazano Senior Convocation ceremony concluded with the awarding of Verrazano certificates and honor cords to each graduate.  Verrazano graduates wear the blue and gold honor cords at Honors Convocation and Commencement to signify that they have successfully fulfilled the requirements of The Verrazano School Honors Program.
After the ceremony,  graduates and their guests made their way over to the Green Dolphin Lounge for a dessert reception to cap off the evening.  The reception, catered by Jodi Merendino and her staff, kept with the Verrazano tradition of including an assortment of homemade miniature pies with the Verrazano "V" on top. The reception offered an opportunity for students to celebrate with their families and friends, professors, CSI administrators, and Verrazano alumni.