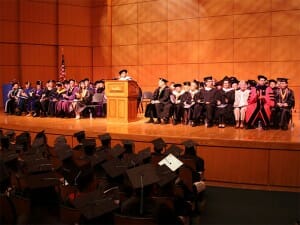 The College of Staten Island honored its top students at the Seventh Annual Honors Convocation at the Center of the Arts Springer Concert Hall.
View the CSI Today Photo Gallery>
View and download the event program>
Elizabeth Krawczun, the CSI Class of 2014 Salutatorian and graduate from the Verrazano School Honors Program, was the student speaker at the event which also featured remarks by Vice President for Student Affairs Dr. A. Ramona Brown, Interim Provost and Senior Vice President for Academic Affairs, Dr. Fred Naider and CSI President Dr. William J. Fritz.
Before the 2014 CSI Salutatorian spoke to those in attendance, President Fritz offered his remarks.
President Fritz first asked the honorees to take a moment to recognize all of the individuals who "have so positively touched and influenced your lives." He then discussed the reasons for which the students were being honored—that the College was proudly celebrating "your intellect, your drive to succeed, and your dedication to service."
Continuing a trend that he began at last year's Honors Convocation, President Fritz quoted last year's class of 2013 Salutatorian, Christina Terracino, because "after all, I realized there is no greater source of inspiration than the words coming from our own students." President Fritz chose a quote that he felt best expressed a deep appreciation of interdisciplinary education.
"The way in which literature can capture the human condition and lead us to understand multiple perspectives is truly remarkable. Literature allows us to relate to things previously unimaginable. Perhaps I can now better imagine the feeling of a Nursing student nervously lifting a syringe for the first time, the joy of a Biology major experiencing the results of an experiment that has just come to fruition, or a student of music who has just found the perfect song lyric. Music, like literature, tells a story. I learned the power of words, and heard the many interpretations expressed by fellow students during class discussions. I learned that everyone has a story to tell."
Dr. Fritz ended his remarks by telling the honorees that "we celebrate your stories tonight," and that "we stand in awe of all the things you have already achieved and all that you have contributed to the continuing success and evolution of this great institution."
Krawczun, who graduated with a CUNY Baccalaureate for Unique and Interdisciplinary Studies in Epidemiology, then discussed a recent Facebook post she read about a professor using a jar filled with golf balls, pebbles, and sand as a way to provide his students with a metaphor for life. "Now," she said, quoting the professor, "I want you to recognize that this jar represents your life. The golf balls are the most important things—your family, your children, your health, your friends, and your favorite passions—and if everything else was lost, your life would still be full."
"The message of this story is a simple one but one that we need to reminded of every once in a while." Krawczun concluded, remarking on the message of the post.
She then quoted writer Neil Gaiman when, during a commencement speech in 2012 told the attendees to "make good art."
"As we go forward," she explained, "we must take our scholarship, ambition, character, heart, and spirit to make good art. Programming software, pumping gas, preparing a good meal, telling a funny joke. Make good art. Graduating is art, and hopefully there are other, better, pieces to come. You are art. Life is art."
Krawczun also referenced her study abroad trip to India and how it "truly changed me and changed how I viewed myself and the world."
She also talked about how, if on May 30th, the day after graduation, "your gown is hanging in your closet or rolled into a ball in the trunk of your car, if you are working early or sleeping late, you should be proud. Remember to be proud."
Following the ceremony, the honored students, their families and friends, faculty, and staff attended a dessert reception in the Center for the Arts Atrium where they were able to celebrate their accomplishments at CSI but, like Krawczun urged her fellow honorees, to remember to be proud.