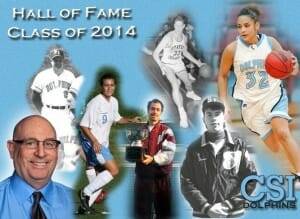 Preparing for its second installment, the College of Staten Island is unveiling its Athletics Hall of Fame Class of 2014, and will celebrate the memories and accolades of seven deserving members in time for its inauguration ceremony this fall. The year's chosen field will be honored on Thursday, November 13, 2014, at Staten Island's Grand Oaks Country Club. This year's eclectic mix of candidates will join the seven members chosen in the inaugural Class of 2012 as the Hall's only members, which honors deserving individuals from both the College of Staten Island and Staten Island Community College.
The distinguished honorees of the CSI Athletics Hall of Fame Class of 2014 are:
– Fiosa Begai – Women's Soccer Player (2005-2008)
– Kevin Crombie – Men's Baseball Player (1989-1992)
– Nicole Estrada – Women's Basketball/Softball Player (2005-2009)
– Fran Hirschy – Men's Baseball Coach (1989-1994)
– William Hodge – Men's Track & Field Player (1968-70)
– Bruce Knittle – Men's & Women's Tennis Coach (1993-2003)
– Rob Roesch – Men's Basketball Player (1987-89)
"We are extremely proud to announce the 2014 Hall of Fame Class," said CSI Athletics Director Charles Gomes. "Each of these former individuals were among the absolute best to have ever competed at CSI and set a standard we hope our current teams strive to achieve. We look forward to immortalizing the accomplishments of the 2014 Hall of Fame Class during our event in November."
A total of five athletes and a pair of coaches will earn distinction this time around, with the most contemporary names coming from the women's fields.
Two-sport star Nicole Estrada dominated the basketball hardwood and softball diamond from 2005-2009, winning CUNYAC softball championships in 2007 and 2009. The slugger finished with a .362 lifetime batting average, and was good for fifth on CSI's all-time hit list with 158. On the court, Estrada finished second all-time with 1,588 career tallies, adding 680 career rebounds, good for sixth all-time. The dynamic two way player ranks fifth all-time in assists (311) and fourth all-time in career steals (264).
Doing the same on the soccer pitch was four-year standout Fiosa Begai. The four-time CUNYAC champion and conference Most Valuable Player set the standard at the College, ushering in the women's program at CSI by setting multiple school records. By the time her career came to close she owned the school record for goals, since broken, at 53, adding 21 assists, and 254 shots, currently second on the all-time list. Her 13 career game-winners are also second all-time, along with her 127 total points.
Men's hoops star Rob Roesch only spent two seasons with the Dolphins from 1987-89, but the Dolphins went 55-16 in his two seasons, winning a pair of CUNYAC titles. Roesch was a two-time CUNYAC MVP, finishing with 1,364 points and 850 rebounds (good for second all-time) in his abridged career. Roesch's 727 points alone in 1987-88 are a single-season school record, as were his 482 rebounds in 1988-89. His 57 career blocks rank fifth all-time.
Four-year baseball hurler Kevin Crombie becomes the first baseball star to join the Hall. Crombie's unique sidearm style was the envy of the NCAA Division III ranks, as the Dolphins won a pair of CUNYAC Championships and made a pair of trips to the NCAA Division III National Championship Tournament, the only ones in school history. Crombie boasted a career 28-4 record with a miniscule 2.40 ERA, the second-lowest mark in school history. Crombie also places second all-time at CSI in career innings pitched (229.0) and strikeouts (281), while placing third all-time in complete games (13) and saves (4). The right-hander also posted six shutouts in his career, four alone during the 1991 season.
Staten Island Community College made its mark on the Hall of Fame this season by way of legendary runner, the late-William Hodge. The captain of the track squad from 1968-70, Hodge was the record-holder in the quarter-mile at SICC, and was a member of the gold medal team in the one-mile relay at the Penn Relays, the only SICC or CSI gold medal win in program history at the prestigious event that feature runners at every collegiate level. Devoted to a career in track & field, upon putting the SICC program on the map, Hodge then dedicated his life to coaching, winning Coach of the Year honors and a bevy of championships at four different NCAA Division I schools and earning enshrinement into the Robert Morris Hall of Fame in 2010. Hodge passed away in 2010 at just 59 years of age while coaching at Belmont Abbey in North Carolina, where he also lived.
Hodge's coaching career after his playing days are certainly as worthy of enshrinement as the two coaches that enter the CSI Hall of Fame in 2014. Legendary Men's and Women's Tennis coach Bruce Knittle, a former pro who once defeated John McEnroe, guided the Dolphins programs to a total of 10 CUNYAC Championships (eight women's titles and two men's) in his 10 years at the helm of both programs from 1993-03. The coach pioneered the sport at the College, introducing a highly successful summer camp at the College during that same time.
Baseball skipper Fran Hirschy did not have the longevity of Knittle's, but the coach's all-time 111-40 (.735) record over five seasons with the squad from 1989-94, still stands as CSI and NCAA Division III records for winning percentage over that time. The team won three CUNYAC titles during that stretch and made the College's only two NCAA Division III National Tournament appearances in 1991 and 1992, going 5-4 all-time in the dance as CSI's only sport with a winning record in national championship play. Hirschy also guided the Dolphins to it's first-ever ECAC Championship in 1990. In his five-year career, the Dolphins posted a 33-3 record in CUNYAC play.
The seven honorees will be honored collectively in November. They were chosen among dozens of potential hopefuls, all nominated by the CSI and outside community. A total of 14 members make up the Hall of Fame committee at the College, representing a cross-section of administrators, coaches, students, media and at-large members of the Staten Island community.
CSI Associate Athletic Director David Pizzuto, who served as Chair and Master of Ceremonies at the inaugural event in 2012 and serves as Chairperson again in 2014, was delighted with this year's class.
"The Hall of Fame process provides us with an appreciation for the many achievements and standout performers our department has boasted over the years," he said. "We had so many valued candidates that the selection of just seven honorees was incredibly difficult. That said I feel the Class of 2014 is one we can be extremely proud of. We have a terrific cross-section of student-athletes and coaches who set the benchmark for the excellence that has come to define our athletic programming today. It's humbling to be a part of."
Gomes, who joined the CSI athletics administration in 2013, sees the Hall of Fame as a showcase for the program, and with two years between Hall of Fame classes, he hopes to build the ceremony with each class.
"This will be a great event for the College of Staten Island as we honor those individuals who made outstanding contributions to our athletic tradition," Gomes said. "They raised the bar with their athletic performances, and we will now raise the bar in how we celebrate their accomplishments. It promises to be an exciting event."
The inauguration event will take place at Grand Oaks Country Club at 200 Huguenot Avenue, on Thursday, November 13, 2014, from 6-10pm, and will feature a full three-course dinner with open bar. Tickets can be purchased at $100 each per adult and $75 for children, by calling (718) 982-3169. Donations, sponsorship opportunities and journal postings are also available. For more information call (718) 982-3169 or log onto www.csidolphins.com.