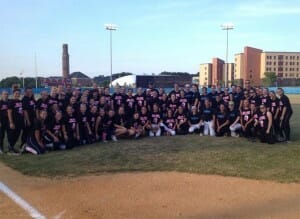 The College of Staten Island celebrated a magical evening on Monday, raising over $7,000 in funds to help support former graduate and softball star Danielle Ponsiglione as part of "No One Stands Alone" Benefit Night at the Tomas D. Morales Baseball Field.  Over 60 former teammates joined Ponsiglione alongside members of the New York Havoc, New York Panthers, and Staten Island Saints Silver squads for an evening of softball and raffles that garnered overwhelming support to help offset medical costs associated with Ponsiglione's fight against Stage IV Melanoma.
Principal organizer Stella Porto, who coached Ponsiglione throughout her collegiate career at CSI which saw a pair of CUNYAC titles and multiple pitching records, was floored by the level of support.  "Leading up to the event people said they would come, but then to see them actually come and participate, it's just overwhelming."  Porto helped organize the event with Kathy Kelly, Athletic Director at St. Joseph by the Sea High School.  Members of the Brooklyn College softball team, coached by Danielle's father, Mike Ponsiglione, were also on hand to help in the event.
Porto was busy with registration for nearly two hours leading up to first pitch.  Participants paid $20 to play and the funds kept flooding in through raffles, 50/50, and concession sales, which sold out.  Ponsiglione, the guest of honor who also played collegiate volleyball at CSI, spent part of the evening pitching for the CSI Alumni team, but was then mostly busy milling through the crowd of nearly 500 people who came to pitch in.  Prior to kick-off Ponsiglione addressed the growing crowd of supporters.  "I can't believe this support for me and I am so grateful," she said.  She later told the Staten Island Advance, "I didn't know I knew this many people…it's insane."
When it came to softball, the teams gathered to play three, three-inning games on the modified baseball field.  The NY Havoc turned back the CSI Alumni, 4-2, and then St. Joseph by the Sea High School blanked the NY Panthers, 2-0.  In the evening's final game, the Staten Island Saints Silver squad came from behind to score a walk-off win over the Panthers, 5-4.  The laid-back atmosphere among the players served as a backdrop to overwhelming donations and raffle ticket sales throughout the night.  There were 22 raffle prizes in all, including an all-expense paid week-long trip to California wine country, an estimated $4,000 value.  The teams spent just as much time posing for pictures with Ponsiglione and her family in-between games, proof-positive that the night was more a show of support for Ponsiglione than anything else.
"We want her to know that no matter what treatment she's getting or what doctor she's seeing, we're going to be there with her," said Porto, who has also been active on social media to promote straight donations be sent to Danielle via www.gofundme.com/a4gpts.  To date, over $15,000 has been raised, and that figure will go above the $20k mark with last night's gross as well.
Those interested in making donations to No One Stands Alone can do so by visiting the donation website at ?www.gofundme.com/a4gpts.  On August 16, the Staten Island Yankees will also take up the cause, as part of all ticket sales for that evening will go toward the campaign.