The College of Staten Island's Office of Continuing Education and Professional Studies has moved to its new satellite campus located at 130 Merrill Avenue on the West Shore of Staten Island. The new location provides CSI continuing education students access to eight dedicated classrooms wired with Smart Board technology as well as a computer lab.
Two informational Fall Open Houses are scheduled for Saturday, September 6, from 9:00am-Noon, and Wednesday, September 10, from 6:00-8:00pm.
Visit www.csi.cuny.edu/continue to learn more about courses and programs featured at the Open House.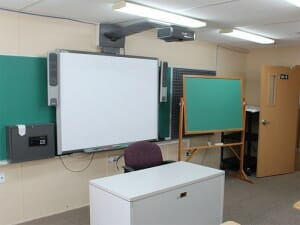 In addition to the advantages of holding courses in state-of-the art classrooms, "we have the opportunity to make a greater impact in our community," noted CSI Continuing Education Administrative Director, Jasmine Cardona. "Our programs allow individuals to become more employable, increase earning potential, or develop the skills needed to make higher education attainable."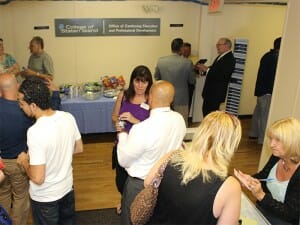 The CSI Continuing Education Program is transforming lives by offering professional development in emerging careers in fields such as healthcare, technology and business. In addition, there are programs and courses that can prepare local residents for college, including remediation and English language development courses, as well as many other community-based programs that are available to meet the diverse needs of the Staten Island community.
For more information about the CSI Continuing Education Program call (718) 982-2182.
CLIP and CUNY START
The CUNY Language Immersion Program (CLIP) and the CUNY START Program have also moved their offices, though they are both remaining on campus. CLIP has moved to room 1L-204 in the Library and CUNY START has moved to their new home in 4N-207A in the Engineering Science and Physics building.
CLIP, an intensive English language program for students who are non-native English speakers provides a full-time immersion approach to English language study that does not draw upon a student's financial aid allocation; students pay only a nominal fee for the program.
This July, CLIP moved to the library just up the stairs from the CUNY Immersion Programs office making it easier for CLIP students to navigate between the programs. It also offers CLIP students a more centrally-located position on campus.
"We will be more readily available to our students and serve more who need the resources we provide," explained CSI CLIP Coordinator Elizabeth Schade. "At CLIP, students find a home with other students with the same goals."
CLIP was launched by the City University of New York (CUNY) in 1995 and is offered at nine CUNY colleges. It is an intensive ESL program offering 25 hours of weekly instruction to entering freshmen. The low cost of the program–$180 per student for the semester—enables the students to study remedial college level courses at CSI without using their financial aid.
Approximately 100 students will be served by CLIP in the library this fall semester when classes begin September 8th.
For more information about CSI CLIP, call Coordinator Elizabeth Schade at (718) 982-2981 or visit their Facebook page .
Rounding out the moves, the CUNY START Program has moved to Building 4N on the CSI campus.
CUNY Start is a low-cost, intensive remediation program for students who have been accepted to the College of Staten Island but still need to pass two or more sections of the CUNY Assessment tests.
Director Donna Grant said that the move means that "the students will have more access to the same labs and resources as the Engineering students," which she believes will motivate more of the program's students to pursue the sciences at CSI.
CUNY Start offers both a full time program for students who need to retake the math assessment test and the reading and/or writing assessment tests, and a part time program for students needing to retake either the math assessment or the reading and writing assessment tests. The program costs $75 per semester, including all books and materials, and allows participants to save their financial aid for credit courses.
For more information about the CSI CUNY START Program call (718) 982-3069.