[youtube]http://www.youtube.com/watch?v=uU4RV05JN5U[/youtube]"Iron Man of the Mask" Franc D'Ambrosio performs an Italian Heritage Benefit Concert featuring hits from Broadway in The Phantom Unmasked, at the College of Staten Island Center for the Arts on Saturday, October 18, 2014 at 7:00pm. Tickets cost $35 with the proceeds benefiting the Italian Studies program.
Tickets may be purchased at the CSI Center of the Arts box office, charged at 718.982.ARTS (2787) or Order Online Today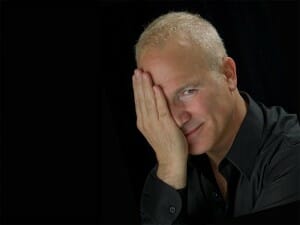 Franc D'Ambrosio is best known as the "Phantom" in Andrew Lloyd Webber's Tony Award-winning musical, The Phantom of the Opera. Affectionately known as "The Iron Man of The Mask," he was awarded the distinction as the "World's Longest Running Phantom." This accomplishment was immortalized in a cemented hand ceremony and he retained this title for a decade.
The Phantom Unmasked is a cabaret-style concert that will include a selection of some of Broadway's hits intermingled with the fascinating personal story of his life. As an ItalianAmerican who was born into a family of bakers in the Bronx, as a child D'Ambrosio could likely have never predicted that his career would include studying with Pavarotti, taking the lead role in Phantom of the Opera, and teaching in conservatories across Italy.
[youtube]http://www.youtube.com/watch?v=bjDYAUJu34o[/youtube]"Franc, like many of us at CSI, knows that an experience abroad can change a student's life," comments Gerry Milligan, co-coordinator of the CSI Italian Studies program, adding "and has generously donated his time to support students at CSI, permitting all ticket proceeds to benefit the Italian Studies Fund, a scholarship developed to help send CSI students to study abroad in Italy."
Franc D'Ambrosio's passion for teaching his craft to young artists leads to Italy each summer.  He teaches at the Accademia Vocale Lorenzo Malfatti in Lucca, Italy.  He has lectured for the University Of Cincinnati's College-Conservatory of Music (at famed Spoleto, Italy). He also works with the Cherubini Music Conservatory in Florence, Italy, and American University in Washington DC. In addition, D'Ambrosio participates in numerous lecture series for such prestigious institutions as the New Conservatory Theater in San Francisco, the famed Julliard School NYC, and the American Academy of Dramatic Arts in New York City. While touring the country, D'Ambrosio makes himself available to local school outreach programs across the U.S. and Europe. He offers both lecture and master class formats.
"More than 500 students study Italian at CSI. We teach language at all levels as well as offer a major and a minor in Italian Studies. The majority of our students are of Italian heritage, but most of them do not speak Italian fluently and almost all have never had the chance to visit Italy," Milligan notes. "In my own experience, even a month in a study abroad program can change a person forever. Growing up in a small town in Tennessee, all it took was one summer study in Italy and the world opened up for me. I had a deeper understanding of my Italian grandmother, and I had the motivation to learn and master Italian. A university classroom can provide a student a solid foundation, but it can never provide the experience of an immersion experience."
D'Ambrosio is a welcomed and frequent guest artist with many major U.S. orchestras and symphonies (Pop Series). With the success of his national and international tours, he has joined the ranks of the famed Michael Crawford and Sarah Brightman as only a handful of Phantom alumni to successfully crossover to solo careers. He has been continuously touring for ten years.
D'Ambrosio's résumé also includes an Academy Award-nominated film, an Emmy Award-nominated television show, a four-time Tony-nominated Broadway show, two Grammy considerations, and a National Theatre Award nomination.
Early in D'Ambrosio's career, Paramount Pictures talent scouts discovered him in the chorus of his first Broadway show. This ended an exhausting two-year international search for the perfect Anthony Corleone. Francis Ford Coppola immediately cast D'Ambrosio as the opera-singing son of Al Pacino in Coppola's seven-time Academy Award-nominated film Godfather III. D'Ambrosio had the honor of sing the Academy Award-winning theme song, "Speak Softly Love" (Brucia la Terra) both in the film and on the original motion picture soundtrack. His performances of the theme song have garnered more than one million hits on YouTube.
D'Ambrosio's performance so impressed the late Luciano Pavarotti that it led to an invitation, which was quickly accepted, for him to study with the legendary tenor for the summer at his home in Italy.
After his impressive run as The Phantom of the Opera D'Ambrosio caught the eye of Barry Manilow, who personally selected him to create and star as the male lead, "Tony" in the pre-Broadway tour of Copacabana. The show enjoyed a successful year-long tour, and his performance earned D'Ambrosio a National Theatre Award nomination for Best Male Performer in a Musical.
Mr. D'Ambrosio currently tours extensively throughout the United States, Europe, and South America with his critically acclaimed one man shows:
FRANC D'AMBROSIO'S BROADWAY – Songs of The Great White Way" (debut 2004)
FRANC D'AMBROSIO'S HOLLYWOOD – Songs of The Silver Screen" (debut 2007)
I'LL BE SEEIN' YOUZ… A Bronx Boys Musical Perspective of World War II" (debut 2010)
FRANC D'AMBROSIO'S CHRISTMAS IN NEW YORK (debut 2011)
Recognized for his vibrant voice and legato singing, D'Ambrosio was invited by olympic champion Brian Boitano to perform as a special musical guest in the skater's NBC special Brian Boitano's Skating Spectacular. D'Ambrosio also joined Boitano in his next TV special, The 2005 Tribute to Movies on Ice, starring as special musical guest with Michael Bolton. His performance of "Music of the Night" skated to by Boitano, received the evening's only standing ovation.
In the middle of his full schedule of solo concerts, D'Ambrosio has co-starred with Dorothy Hamill in the critically acclaimed Broadway on Ice. D'Ambrosio also starred in the Louisiana Lyric Opera's successful production of Miss Saigon. The National Italian American Foundation featured D'Ambrosio as their special guest artist for the prestigious 2011 Spring Gala — an event co-hosted by Joe Mantegna and Gary Sinse.
In July 2011, D'Ambrosio was pleased to accept the invitation to co-star in the production Love Changes Everything, – a celebration of the music of Andrew Lloyd Webber. This production boasted an all-star cast, which also featured Tony Award winners Liz Callaway, Kevin Kern, and Laurie Gayle Stephenson. They played to packed houses and received rave reviews. "Most impressive is D'Ambrosio who played the title role in "The Phantom of the Opera" for six years and delivers an exquisite version of "The Music of the Night." – Alice T. Carter/Pittsburgh Tribune.
D'Ambrosio's new show, Christmas in New York joyously celebrates the magic of the holiday season with favorite holiday standards from the American Songbook. The show debuted in November 2011 and played to sold-out audiences at the famed Rrazz Room in San Francisco and other venues around the country.