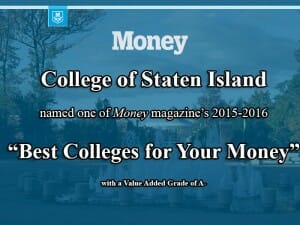 MONEY magazine has published its list of the Best Colleges for 2015-2016 this week, identifying 736 schools, out of approximately 1,500 nationwide, that provide the best value for your tuition dollar.
With a "Value Added Grade" of A-, the College of Staten Island is ranked third for public institutions in New York State behind CUNY Baruch and SUNY Maritime, eighth among public institutions in the Mideast region, and 123rd overall on the Best Colleges list. This is the second year of growth for CSI in the rankings.
CSI is also featured on the published lists: "The 50 Best Public Colleges," "The 50 Colleges That Add the Most Value," and "The 50 Best Colleges That You Can Actually Get Into."
"It is especially rewarding when the day-to-day dedication and commitment of our faculty and staff, and the hard work of our students, can be recognized and celebrated in such prestigious national rankings," commented Dr. William J. Fritz, President of the College of Staten Island, a senior college of The City University of New York. "CSI is no longer a 'best-kept secret,' and I am proud that our College continues to be further recognized in the national rankings as we take on an increasingly important role on the regional, national, and international stage."
When MONEY set out to determine which of the country's four-year colleges and universities delivered a great education at an affordable price that helped students launch promising careers, they evaluated approximately 1,500 schools nationwide on educational quality, affordability, and alumni earnings, as well as a "special value measure,"  which "considered how well students at each school did versus what would be expected given their economic and academic backgrounds, and the institution's mix of majors." Other factors included "merit aid, parent and student borrowing, the length of time to graduate, tuition increases, and other measures."
"This is a great recognition of the commitment of CSI's faculty and staff to provide high-quality education and support for our students' success. This good work will continue as we build and maintain outstanding academic degree programs at the undergraduate, master's, and doctoral levels to serve the community and the diverse population we serve," notes Dr. Gary Reichard, Provost and Senior Vice President for Academic Affairs at CSI. "The recent creation of our three new Schools, in Business, Education, and Health Sciences, and the soon-to-be-built Interdisciplinary High-Performance Computing Center, together with our newly developed residence halls, will further strengthen CSI's position as a leading institution in New York City."
CSI made the "The 50 Best Public Colleges" list based upon being ranking highest on MONEY's overall Best Colleges list and "The 50 Colleges That Add the Most Value" list for being a school that best helps students exceed their expectations.
"What's impressive is when a college can help students do far better than you'd expect based on their academic and economic backgrounds and the mix of majors at their schools (something we measure with what we call a value-added grade). These 50 schools do just that," according to an explanation on MONEY.com.
View MONEY's College Planner to Picking the Right School http://time.com/money/best-colleges
For detail on the ranking methodologies, visit: https://best-colleges.time.com/money/ranking-methodology
To view the CSI profile, visit: https://best-colleges.time.com/money/full-ranking#/school/cuny-college-of-staten-island