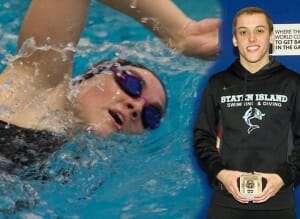 Following a great scholastic year in the pool and in the classroom, the College Swimming Coaches Association of America (CSCAA) has bestowed laurels to the men's and women's swim teams at the College of Staten Island.  The women's swimming & diving team, which took home the College's Team GPA award at the Dolphins' end of year awards banquet, was one of 406 schools spanning all NCAA Divisions to be designated as a Scholar All-America team in 2014-15, and CSI sophomore Tim Sweeney on the men's side was honored as a Scholar All-America Honorable Mention as an individual.
Boasting a collective team Grade Point Average of 3.25, the women's team at the College has successfully married the ideals of excellence in the classroom and the pool.  The team decimated the school record book this season, setting 19 new school records this past year, including 13 alone at the annual CUNYAC Championship Meet in early-February.  A total of 9 CSI student-athletes boast GPA's over a 3.0, with six earning over a 3.25.
One such student-athlete is 2015-16 senior Kelly Walsh, who sports a 3.30 GPA majoring in accounting with a minor in finance.  Alongside her exploits in the pool, which include contributions to two record-breaking relay teams, Walsh holds a part time job at Forbes Magazine in Manhattan and will take the time to study abroad in Ireland in the coming weeks with teammate Caitlin McLoughlin.  For Walsh, excellence in the classroom is par for the course, and the attitude is infectious with her teammates.
"The best thing about our team is that we are very helpful and supportive of one-another," Walsh stated.  "We are there to pick each other up and I think we all recognize that if we work hard we can achieve in all areas because we won't let each other down, and that includes the work we do in the classroom."  As a captain and upperclassman, Walsh understands the commitment involved with excelling in both arenas.  "As a captain you have to represent your team the right way and I know that means doing well in the classroom as well as the pool.  I definitely feel that they go hand-in-hand."
For Walsh, being able to achieve in her studies translates rather seamlessly to the competitive waters, and both are linked as a student-athlete.
"I feel like they both come with the same mindset," she said.  "Much like practicing in the pool, the more hard work and effort you put in your studies, the better your grades can be.  Good things come from being able to focus on doing well in both."
CSI's men's unit also held a high honor in Sweeney's achievement.  To obtain Scholar All-America status, a student-athlete must maintain an overall GPA of 3.50 or higher, while also achieving a minimum of an NCAA B-cut time in a respective NCAA Championship event.  Sweeney is delivering, sporting a 3.87 GPA majoring in mathematics with minors in finance and geography while sporting a B-cut time in his signature 200-yard Butterfly event.  He will seek a career as an actuary after college.
"This is very much an honor and I appreciate being recognized," said Sweeney, who was named the CUNYAC Performer of the Meet at their annual Championship Meet in February.  "I treat school and swimming as two very important things in my life and the two work together to make up who I am.   To be recognized for achievements in both as a Scholar All-America truly means a lot."
"Swimmers and divers truly embody the student-athlete ethos and are well-known for earning some of the highest GPAs on campus," said CSCAA executive director Joel Shinofield. "With nearly half of all national championship qualifiers producing GPA's higher than 3.50, you see swimming and diving adds so much to value to a campus community. These accomplishments are impressive and a sign of the success they will carry on through life, positively representing their schools along the way."
"It's definitely a great feeling to be recognized," said Walsh, who will focus on becoming a Certified Public Accountant post-graduation.  "We have individuals on the team who are amazing and work extremely hard and a lot of that hard work in the classroom can get overshadowed by performances in the pool.  So, this is really a great highlight for us."
Founded in 1992, the CSCAA – the oldest organization of college coaches in America – is a professional organization of college swimming and diving coaches dedicated to serving and providing leadership for the advancement of the sport of swimming and diving at the collegiate level.  For a complete list of Scholar All-America teams and Individuals, visit the CSCAA website at www.cscaa.org.