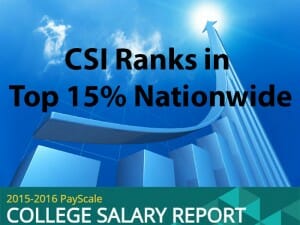 PayScale's 2015-2016 College Salary Report has ranked more than 1,000 colleges and universities by the median salaries of their alumni, placing the College of Staten Island in the top 15% nationwide.
The report sets out to rank the best universities and colleges by salary potential. According to Payscale.com, "By knowing how much you can expect to earn after getting your bachelor's degree, you can choose a school wisely and set yourself up for future financial security."
From the 1,034 colleges ranked, CSI tied for 132nd place, with an early career pay of $47,100 and mid-career pay of $90,800. Of those surveyed, 47% of respondents attached a "high meaning" to their post-CSI employment, saying their work helps make the world a better place, and 12% received their CSI degrees in Science, Technology, Engineering, or Math (STEM). When looking at the data for business majors, CSI ranks 248 out of 592 institutions.
For complete details of the 2015-2016 College Salary Report visit payscale.com>