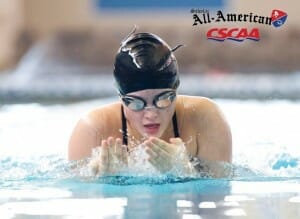 Getting ready for another exciting entry into the postseason, the College of Staten Island men's and women's swimming and diving teams picked up a boost in an arena outside the pool this week. Both units were among those selected as Scholar All-America institutions by the College Swimming Coaches Association of America (CSCAA). The citation recognizes the outstanding academic achievements of entire teams that cumulate a grade point average of 3.0 or better.
A total of 547 men's and women's team spanning the entire nation and across all three NCAA Divisions were recognized. CSI was named to both men's and women's sides for the first time in their history and were the CUNYAC's lone representatives. Long known for their academic prowess, Head Coach Michael Ackalitis recognizes the efforts in the classroom translating to the pool.
"That carryover is a major reason why we have had the kind of success we have had in recent years," he said. "An honor like this is an indication as to how hard our student-athletes work. The swimming and diving season is a long one, and it takes a lot of dedication and determination, so to be successful while also focusing on the academic component is very impressive."
Indeed, the College units have posted terrific numbers. The women's team boasted a 3.32 GPA as a team, and ranked tied for 74th among the 129 NCAA Division III schools named to the list. Over on the men's table, the Dolphins debuted as a top academic unit with a 3.10 GPA, ranking them 67th on the list of 85.
"College swimming is a complete preparation for life, where our athletes see the results of goal-setting, perseverance and personal accountability," said USA Swimming National Team Director Frank Busch. "These values that make swimmers successful in the pool are also what make them stand out in the classroom and become high achievers in their careers after college."
The CSCAA honors Scholar All-America teams after each semester. The organization notes that swimming and diving athletes in particular have shown tremendous academic success, with 61% of women's teams in the nation achieving scholar status and 43% of men's teams as well.
For a complete list of award winners, see the CSCAA website>