Mahwish Razi '18, a Verrazano student, is a Computer Science major with minors in Chinese and Political Science. Not only does she study broadly, she travels broadly! Here she shares here experiences on a winter study abroad in China (and elsewhere!).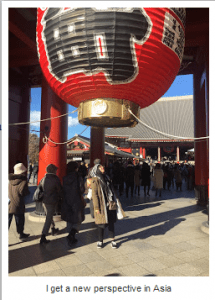 2/5/2016
Three countries, one month, and I am officially back and labeled, "Miss traveled the world".  I spent three weeks living and studying in Shanghai, China, four days touring Tokyo, and one week on vacation in Dubai this past winter break. I came back Sunday night and in only a few hours was back on the CSI campus. Jetlagged? Like never before. Culture shocked? Well, only the fourth time in four weeks.
Both China and Japan were at the top of my bucket list, Japan above China even. Studying abroad for me was my lifelong dream; however, when I began college, it was almost a joke. As soon as I entered the Verrazano program, there was all this talk about studying abroad and I was constantly asked if it was in my plans, and I'd respond each time saying, "Yes!" while thinking to myself, "If only."  It's almost funny when I figured it out; the only thing holding me back really was myself. I'd always find myself wandering into the international center whether it was for an event or to inquire about one, when I finally decided to just get that application and go.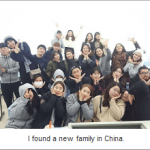 And so I went… It was the best decision I've ever made. On the way to Shanghai, we stopped in Japan as it was a connection flight, and although we didn't leave the airport, I was fascinated beyond imagination. Those Japanese toilets were something, and I remember telling my friends how I wished we came to study abroad in Japan instead of China. However, it wasn't long before I'd be whining about not leaving Shanghai and coming up with plans to live my life out there.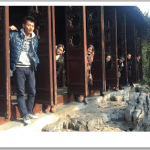 Shanghai became, in just three weeks, home. My friends became my family and although my tones were off and half the time I was speaking in Chinglish, I came to a point where all I wanted to do was speak Chinese. I find myself nostalgic about everything there. There is not a single thing that I don't miss. My friends hated being pushed into the trains, but I, for one, loved it. Yes, ask me anything about China and I will say I loved it. It was nothing like what I imagined going there. I thought I'd be going to a bigger Chinatown; I couldn't have been more wrong. This was a place with the most amazing infrastructure; I almost thought I was in the future. With such advanced technology and architecture, this was also a place rich in culture and cuisine. Although most shops were closed for breakfast, watching the early groups enjoy tai chi and the calligraphy being painted on the park tiles filled me up right to the brim.
I still can't believe I went to China and I couldn't believe it there either. I'd probably say it five times a day, if not more, "Guys can you believe we're in China? China guys, China!" and towards the end I changed it up a bit: "Guys can you believe we're leaving? We're leaving China guys, China, aren't you super duper sad?" Travelling to China was definitely an experience that changed my life for the better and gave me clarity as to where I need to be headed with my future goals. I think if anything, I have been blessed for this opportunity and for the friends that became so dear to me. Xièxiè for everything China and to everyone that helped me reach such an amazing place.
To read more about exciting exploration, visit The Verrazano Voyager homepage.