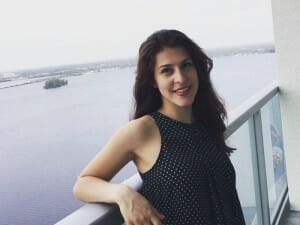 "What can I do today that will make me proud in the future?"
Erica Golin, Class of '15, ponders that question daily, a mantra that has certainly served her well as the 23-year-old Verrazano School alumna has been accepted to the Columbia School of International and Public Affairs at Columbia University. She will begin pursuing a Master's of Public Administration starting in the summer.
Golin, who was a Psychology major and Sociology and Anthropology minor, currently works in the Graduate Recruitment and Admissions Office at the College of Staten Island.
While a student, she was involved in a wide variety of activities and organizations on campus, many that eventually allowed her to realize her career goals.
"It was at CSI that I found my passion for environmental issues. While I always cared about the environment, I thought I wanted to be a psychologist or psychology professor," noted Golin, adding that her Cultural Anthropology class with City College Professor Lindsay Parme "started me on the path of 'waking up,' so to speak."
Several other courses, a relevant documentary, and her membership with the CUNY Service Corps all solidified her passion about the issues facing the environment.
A General Douglas A. MacArthur High School graduate, Golin was on the CSI Student Government, Campus Activities Board, and in the Emerging Leaders Program. She also enjoyed assisting at CSI New Student Orientation and giving campus tours as a CSI Ambassador.
She is thankful to "the entire staff of Student Life, The Verrazano School, Career and Scholarship, and Recruitment and Admissions who were enormously helpful in validating my potential and encouraging me to pursue my goals."
"I could not have had these opportunities if it weren't for CSI!" she exclaimed.
The Westerleigh resident is the recipient of a CSI Scholarship, a Departmental Scholarship in Psychology, and a Dolphin Award for Outstanding Service and Contribution by a Currently Enrolled Student (2015).
A Brooklyn native, Golin states that her "ultimate goal is to start an institute where people can learn about resource-based economy, which offers solutions to problems such as climate change."
By Sara Paul