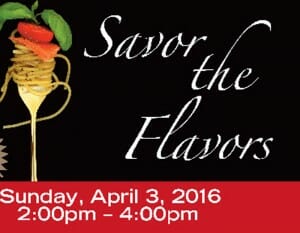 The best restaurants on Staten Island will join together for the Seventh Annual Savor the Flavors tasting event on Sunday, April 3 in the College of Staten Island Center for the Arts.
Each participating restaurant will bring their signature dish and demonstrate how it is prepared. Guest judges Rob Burmeister, Eddie Canlon, and John Sierp featured on the Food Network's Chopped will be on hand to award winners for Best Dish and Best Dessert, while attendees can help decide the People's Choice Award winner.
Once again, outstanding restaurateurs will partner with the College of Staten Island Alumni Association to help raise much-needed money for scholarships while showcasing the diverse cuisine that our Borough has to offer. Over the past six year, scholarships have been awarded through the CSI Alumni Legacy Scholarship from money raised from past Savor the Flavor events.
The taste-bud stimulating event is sponsored by Liberty Mutual. The event Chair is James McBratney '05, President of the Staten Island Restaurant and Tavern Association.
There will be a cooking competition between a Staten Island firefighter, Port Richmond High School, and Alumni Board President and Delish Dishes owner Carole Gervasi' 02. Guests will also be treated to desserts, wine tasting, beverages, and raffles. Music will be donated and provided by Feel the Beat Productions. Photography will be provided by Paul Caminiti '15.
The restaurants who are generously donating their signature cuisine include Afternoones, Alfonso's,  Anheuser-Busch, Aunt Butchie's, Bayou, Beans and Leaves, The Beer Garden, Beso, Blue, Cake Chef, Cookie Jar, Canlon's Restaurant, Caramelo, The Crazy Taco Tequila Bar, Delish Dishes, Dosa Garden,  Ho'Brah Taco Joint, J's on the Bay, Jimmy Max (Westerleigh & Great Kills), Leo's Deli, Liberty Tavern, Mother Mousse, Oriental Plaza,  Pepperjack Grill, Piece of Cake Bakery, Portobello Café,  Port Richmond High School Culinary Arts Program, San Rasa Sri Lankan Cuisine,  Vino Divino (wines), Zaghloul, and more.
Tickets are $40 per person through the event Website through April 1; and $50 at the door. For more information and to RSVP, call 718.982.2365 or visit the CSI Alumni Association Website.