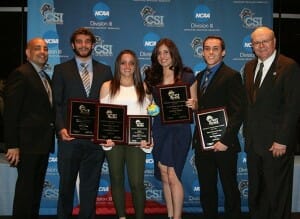 After another rousing year, the College of Staten Island athletics program celebrated this evening, dishing out more than 60 awards at its annual awards banquet held at The Vanderbilt at South Beach in Staten Island, New York.  The annual event recognized the top performers and other distinguished award winners spanning CSI's intercollegiate programs, with Female and Male Athlete of the Year honors collected by Softball's Jacqueline Cautela and Men's Swimming's Tim Sweeney.
After greetings from Director of Athletics Charles Gomes and Deputy to the President Kenichi Iwama awards were given for each sport in chronological order beginning with teams last fall, and ending with women's softball, which finalized its season with a CUNYAC title and remains the only sport left with games still on its schedule as part of the NCAA Division III National Championship.
Cautela, a junior, just took home CUNYAC Tournament MVP honors after tossing two no-hitters in the weekend tournament.  She finished with a .376 clip from the plate, pacing the team in runs scored, walks, and doubles, where she's tied a single season record.  She also boasts a 13-6 record in the circle with a 1.70 ERA.  CSI swimming sensation Tim Sweeney raced to his award after a phenomenal season that saw him break CUNYAC records in the freestyle, individual medley and butterfly events, capping an MVP season with seven first place finishes at the CUNYAC Championship, where CSI took home their third-straight title.  A scholar-athlete, Sweeney was a Honorable Mention Scholar-Athlete All-America by the College Swimming Coaches Association of America, and was a six-time CollegeSwimming.com Performer of the Week.
CSI Scholar-Athlete of the Year honors was given to softball stalwart and senior Christina Tufano.  The decorated star and former Player of the Year broke school records for hits, RBI, and doubles this season and leads the team in hitting with a .398 average while sporting a 3.84 GPA majoring in Psychology. The award comes days before Tufano is slated to win the CUNYAC Female Scholar-Athlete of the Year.  The Department also honored the CSI Women's Swimming & Diving team for posting CSI Athletics' highest Team GPA, at 3.34.  It was their second-straight award win, lifting their GPA from last year's 3.29.
Chris Pinto, a junior from both the men's swimming and men's tennis team, was awarded the 11th Annual Bill Cali/John Scrivani Sportsmanship Award, named after CSI's former baseball skippers who earned similar honors from the Staten Island Advance in 2005.  The two-sport star overcame several injuries and was cited as an impeccable leader who displayed high character, as well as his overwhelming willingness to assist his teams by mastering diving on the swim platform and serving as the tennis teams ace after two personnel losses during midseason.
Overcoming injury was the theme for Samantha Wysokowski, who was awarded CSI's 2nd Annual Sports Medicine Award, distributed by Head Athletic Trainer Joe Abruzzo.  The award is given to an outstanding athlete who displays courage and resiliency through injury and/or rehabilitation.  Wysokowski overcame a season-ending injury in 2014 to rebound and lead her team in scoring in goals in 2015 and its first CUNYAC title since 2011.
Midway through the ceremony, members of the CSI Student-Athlete Advisory Committee presented their 6th Annual G.L.O.V.E. Award to the CSI Men's Soccer Team for their model of Giving, Leading, Organizing, Volunteering, and Encouraging.  The team spent countless hours in the community, teaming with organizations such as Project Hospitality and Bread 4 Life to name a few.
At the conclusion of the ceremony CSI honored its four-year seniors, 25 in total, with commemorative time pieces, issued to them by CSI President Dr. William J. Fritz and Gomes.
All told, the rousing event was a great success, according to the Athletic Director.
"Tonight is the culmination of a tremendous athletic year and it did not disappoint," said Gomes.  "We get to honor some oustanding performances and what stood out to me was the concept oif Dolphin pride.  Between the teams giving out their individual awards, the major award winners and the senior gifts we gave the four-year letterwinners, it was an emotional night and we couldn't be prouder."
An end-of-year highlight video, prepared by CSI Events Manager Anthony Avena was the highlight of the evening.  The video will be posted below.  The CSI academic year will come to a close in the coming weeks, when Commencement will take place on June 2.