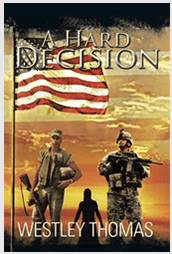 College of Staten Island (CSI) alumnus Westley Thomas recently had his novel, A Hard Decision, featured on PR Web.  The novel follows the lives of a couple who are divided by war and then surprisingly reunited, forcing the now married widow to make a "hard decision."
"The book is a tribute to the spirit and strength of every human being and what makes people do the things they do. There is something with which every reader will be able to identify. The book combines love, war, loss, family, friendship, death and all of the elements of daily life that anyone could humanly experience," Thomas noted.
Thomas graduated from CSI with a Bachelor of Arts in dramatic arts and is now a volunteer advocate for veterans rights.
To view the full article and video, visit the PR Web page.