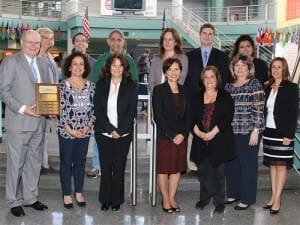 The Office of Human Resources at the College of Staten Island (CSI) proudly honored the 2016 Employee of the Month recipients at the Annual Employee of the Month Luncheon in the Campus Center's Green Dolphin Lounge on November 4.
Read the Honorees' bios and view the CSI Today Photo Gallery>
At the event, coordinated by the Office of Human Resources and the Employee Recognition Committee, Executive Director of Human Resources Hope Berte thanked honorees for their hard work and dedication.
"Success cannot me achieved unless someone has the vision and the desire to initiate it.  Today we will recognize 12 outstanding employees.  Their extra effort, dedication, insights and opinions are all extremely valuable and contribute to the success of the College," said Berte, who led the ceremony with Human Resources staff members.
CSI President William J. Fritz greeted the audience as well and highlighted the College's legacy and some of CSI's national rankings. He noted that the honorees "have been a part of making this happen."
"Trust me, I do know how hard all of you work. Everyone who relies on you – me, my senior administration, directors, department heads, faculty, and others, whether they have expressed it to you or not, know a simple truth – that all of our major accomplishments could not have been attained without your hard work and selfless dedication to excellence," Dr. Fritz said.
"You are being honored for a particular month, but in reality we know you perform at the same highest level every month. So on behalf of the entire College community I thank you, and I hope you enjoy this celebration in your honor."
Following Dr. Fritz, committee members read a short speech for each honoree as they were presented with a certificate and posed for a photo with Dr. Fritz.
This ceremony is an annual event recognition event at the College, celebrating the many achievements of the College community.