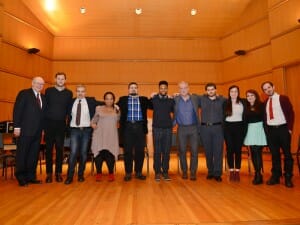 During the months of October and November 2016, the Department of Media Culture and the College of Staten Island presented the annual Tournées Film Festival.
With funding from the French-American Cultural Exchange in the Education and the Arts (FACE) organization and the Cultural Services of the French Embassy in the United States, students and Staten Island residents were given the opportunity to view recent and important films from France. A
long with films that explored the nation's changing cultural landscape, the series presented Jules Dassin's classic film noir, Riffifi (1955).
View the CSI Today Photo Gallery>
On November 17, the Film Festival concluded with a President's reception and public screening of the student films, Simply Clarisse and L'été en suspens, a short film made by CSI students that chronicles eight New York students as they travel abroad in Tours, France. Against the backdrop of July 2016, socio-political themes pervade the group's thoughts, discussions, and their creative art. The result is a cinema-vérité documentary that explores the impact of world events on the psyche of the American filmmakers as well as the French locals they meet.
This festival was made possible at the College of Staten Island by the Department of Media Culture, the Center for Global Engagement, the Department of World Languages and Literatures, the Division of Humanities and Social Sciences, the Focus on Global Women and Girls Project, the LGBTQ Resource Center, and the Student Government.
Cultural Partners included Cultural Services of the French Embassy in the U.S., Centre National Du Cinema Et De L'Image Animee, the Franco-American Cultural Fund, the Florence Gould Foundation, and Highbrow Entertainment.
The offices of Institutional Advancement and External Affairs, Dining Services, Center for the Arts, Public Safety, and Operational Services also contributed to the success of the film series.
To view the CSI student film L'ÉTÉ EN SUSPENS (A SUMMER PAUSED) shot on location in Tours, France, visit: frenchculture.org>.
According to frenchculture.org, "the film chronicles the month spent overseas; importantly, the film reveals the social-political themes that pervaded the group's thoughts, discussions, and their creative art. The result is a cinema-verité documentary that explores the impact of world events on the psyche of the American filmmakers as well as the French locals they meet."