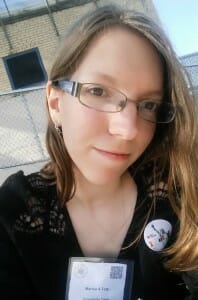 CSI alumna Marisa Toth is about to embark on an adventure that is perfectly suited to her longstanding interest in East Asia—she will be a student teacher of English in China, this summer.
Toth, who graduated last December with a Bachelor of Arts degree in International Studies, with a focus on foreign language, and a minor in East Asia Studies, explained that her interest in the region began in elementary school as a result of her father's job with a Japanese financial holding company. "He would come home and teach me some of the Japanese he picked up from his coworker," she explained. "By the time high school rolled around, I began to teach myself Japanese so that one day I could travel to Japan and view its beauty in person. When I enrolled in college, CSI did not offer Japanese language courses, but I wanted to continue studying an Asian language. The next, logical step was to pick up Mandarin. Honestly, I was extremely intimidated by Chinese, and was not at all interested in it, at first. Soon enough, I grew to appreciate its uniqueness, and decided by early sophomore year that I wanted to build a translation/interpreting career around it."
After two years of study at CSI, which presented the opportunity for her to interact with students from China, allowing her to hone her language skills and learn about Chinese culture, Toth spent two summers studying advanced/formal Chinese at Middlebury College in Middlebury, VT for two summers. She recalls that it was a rigorous program. "The eight-week-long immersion program at the college's Language Schools requires each student to sign a "language pledge" that states that for duration of the program you will speak no language other than the one you chose to study, else face expulsion. Classes and extracurricular activities are all conducted in that language, as well. The staff even advises against lengthy conversations with friends and family members in English."
Now that Toth is equipped with advanced language skills, she will embark on the next leg of her studies. "For one year, beginning this July," Toth explains, "I will be working for English First (EF), an international educational institution, in the Chinese city of Shijiazhuang, which is about 180 miles southwest of Beijing. It is an English immersion program (much like the one at Middlebury College, although consequences for speaking Chinese are not nearly as harsh) that emphasizes efficient speaking, reading, and writing in English for children and adults of any age. Teachers are selected by their commitment to learning and education, willingness to try things outside of their comfort zone, and their ability to adapt to working with students who have mixed language abilities and varying socio-economic backgrounds."
How does she feel about this opportunity? "I feel very grateful to not only be the first in my family to graduate from college, but to also be the first in my family to work/study overseas at 23 years old," she said.
Looking to the future, Toth remarked that "After one year, if I decide that I genuinely enjoy teaching and wish to continue, I will consider working for EF for another year in a different country. This year, I will travel to China, but next year, I could possibly fulfill my dream of visiting Japan for a year, and maybe Korea for another year, so on and so forth."
As her future looks bright, Toth recalled the academic foundation that was laid at CSI. "CSI offers many classes that are taught by some of the most dedicated professors. In my own personal experience, along with the language classes came political science and sociology classes that really delve into the diverse atmospheres not only of countries that all of us have heard of before, but also of countries that rarely enter most Westerners' minds. For example, in my capstone International Studies class with Professor Jane Marcus-Delgado, I learned a lot about the nation of Bhutan in a short, class exercise. I once took a MUS 105 class that introduced me to Indonesian, Javanese, Pakistani, and Tanzanian culture. I think that part of the reason why jumping from country to country appeals to me so much is because of CSI's numerous courses that opened my eyes to places that I would not have given a thought to otherwise. I will always be thankful that CSI gave me and countless other students that knowledge. Today, international awareness is increasingly important, and I'm happy that CSI does what it can to enforce this fact."