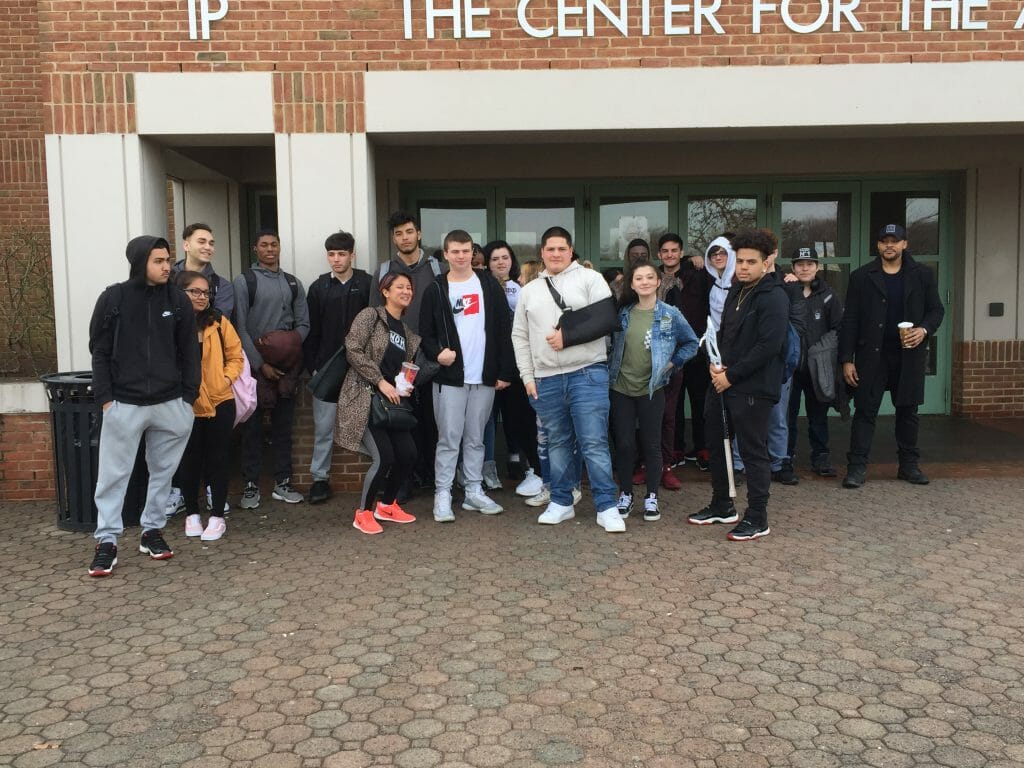 The College of Staten Island/CUNY (CSI) has created new opportunities for area students to ascend academically as it partners with Staten Island high schools through The City University of New York's (CUNY) Math Start™ program. Math Start™ is a math proficiency and college readiness model that fosters students' full math potential, study habits, and self-advocacy skills in order to be successful in college.
This unique collaboration was part of the 30,000 Degrees initiative, which strives to address the national crises of college access and completion. Created by the College of Staten Island/CUNY, St. John's University/Staten Island Campus, Wagner College, and four local public high schools, 30,000 Degrees adopts an anchor mission to increase the number of college graduates with a bachelor's degree or higher from Staten Island by 30,000 by the year 2025.
The first Math Start™ collaboration under this framework was launched in 2017 between CSI and New Dorp High School (NDHS). The implementation of the program at NDHS marks the first time this nationally recognized model was used in a high school, versus a college setting.
Dr. Deirdre DeAngelis, Principal of New Dorp High School, sees this partnership as an opportunity to bridge a systemic divide between college and high school, so that students don't fall into what she calls "The Moat." "This proactive approach allows students to be better prepared and more qualified to take on the challenges of college-level work. Students who enter college in a remedial status are less likely to remain in an atmosphere where they are experiencing defeat from the beginning. In order to strengthen the transition, or walk over the draw bridge, we have utilized the strength of the CSI Math Start™ program, especially the curriculum, training and support staff, to provide our students a more successful experience and start to college life."
Dr. DeAngelis is the longest-serving female principal in the City of New York, winner of the Sloan Public Service Award, and was honored by Education Update at its 2019 ceremony at the Harvard Club in Manhattan, along with CUNY's new Chancellor, Dr. Felix Matos Rodriguez, and Interim Executive Vice Chancellor and Provost Dr. Vita Rabinowitz.
Student participants in Math Start™ each receive dedicated support through college matriculation, financial aid, and a first-year course selection process, which includes an opportunity to enroll in CUNY's Accelerated Study in Associate's Program (ASAP). ASAP provides financial incentives and dedicated support for full-time associate's-degree students. CSI's ASAP offers a bachelor's degree track: the only one of its kind in CUNY. Rather than waiting for students to waste financial aid and invest time in remedial courses at the point of college enrollment, this historic collaboration starts with at-risk, college-bound high school seniors; saving students' time, money, and grief.
In the collaboration's pilot year, one hundred percent of students passed the seminar class, earning college-credit. Eighty-nine percent (25 out of 28) of participants enrolled in college, both within and outside of the CUNY system. Eighty-two percent (23 out of 28) of participants addressed their college math remedial needs, before graduating high school. Due to the success of this first-year pilot, an additional CUNY Math Start™ cohort ran in New Dorp High School last academic year. In Year 2, 89 percent (24 out of 27) students passed the seminar class once more, earning a college credit. Approximately 85 percent (23 out of 27) of participants had self-identified as intending to enroll in CUNY and non-CUNY colleges in fall 2019. Another 70 percent (19 out of 27) of participants addressed their college math remedial needs, before graduating high school.
"CSI's most successful community partnerships involve organizations with great leaders who have vision in addressing the most pressing issues faced by our borough. Principal Deirdre DeAngelis, our 30,000 Degrees partner, is such a leader in helping us to create this completely novel implementation of Math Start™, one of CUNY's signature programs. Together we will continue to develop innovative ways to ensure New Dorp students succeed in college and beyond," said Ken Iwama, Vice President of Economic Development, Continuing Studies, and Government Relations at CSI.
Considering the impressive results of the program, University officials made this model more accessible to the community, specifically in St. George, at Curtis High School, and for adults with high school equivalency diplomas, who intended to enroll in college in fall 2019. CSI recruited candidates for an Adult Learner-Math Start™ cohort to experience the program at CSI's St. George Campus. The launch provided the same academic and advisement support to returning adult learners who have not yet applied to CUNY, much like the partnership model which ran at New Dorp High School. CSI has also made significant improvements to the experiences that high school students can access when visiting campus and CSI's Technology Incubator; particularly in the STEAM fields.
All of these activities under 30,000 Degrees reflect CSI' strategic priority as borough steward, and its anchor mission to "intentionally apply an institution's long-term, place-based economic power and human capital in partnership with community to mutually benefit the long-term well-being of both" (The Democracy Collaborative). Articulated by institutional leadership, and in alignment with New York City's College Access for All initiative, the vision of 30,000 Degrees is to direct the public purpose of each institution toward confronting social inequities that inhibit educational aspirations and economic prosperity on Staten Island.
By Crystal Montalvo and Terry Mares