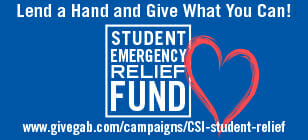 The COVID-19 pandemic has served as a point of unity for the CSI College community in the form of the Student Emergency Relief Fund campaign, an effort to support the growing numbers of students who are facing economic hardships as a result of the crisis.
Jennifer Lynch, CSI Associate Director of Annual Giving, stated that when students began to suffer from the vast economic fallout of the pandemic, the Division of Institutional Advancement responded immediately with a pivotal shift from its regular fundraising campaigns to the Emergency Fund to address food and housing security, and to provide access to resources so that students could continue their studies.
Lynch reported that the response, so far, "is unprecedented for one of our crowdfunding appeals. It says so much about the cause and our campus/alumni community wishing to help." As of this writing, more than $31K has been raised, which exceeds the initial goal of $25K by 128%, and allows the effort to reach even further.
Lynch expressed gratitude for the many donors and organizations that have stepped up to support our students and the inspiring messages they have posted on the crowdfunding platform. Examples include:
· The support of Student Government President, Fatu Amara, Class of 2020, who is featured on the site.
· The Friends of CSI's $2,000 donation to seed the campaign and kick it off
· A $1K donation from the CSI Alumni Association
· $10K from an anonymous donor, with $5K initially and a $5K matching challenge that was met in a week
· Many large gifts in the hundreds and thousands of dollars
· Many first-time donors
Cheryl Adolph, Executive Director of the Division, said that "the quick and generous response to the campaign demonstrates that the College community will always be here for our students, especially when they are facing extremely difficult times."
Those who are interested in supporting our students in need, and ensuring a brighter future for all, may visit the CSI Student Emergency Relief page.