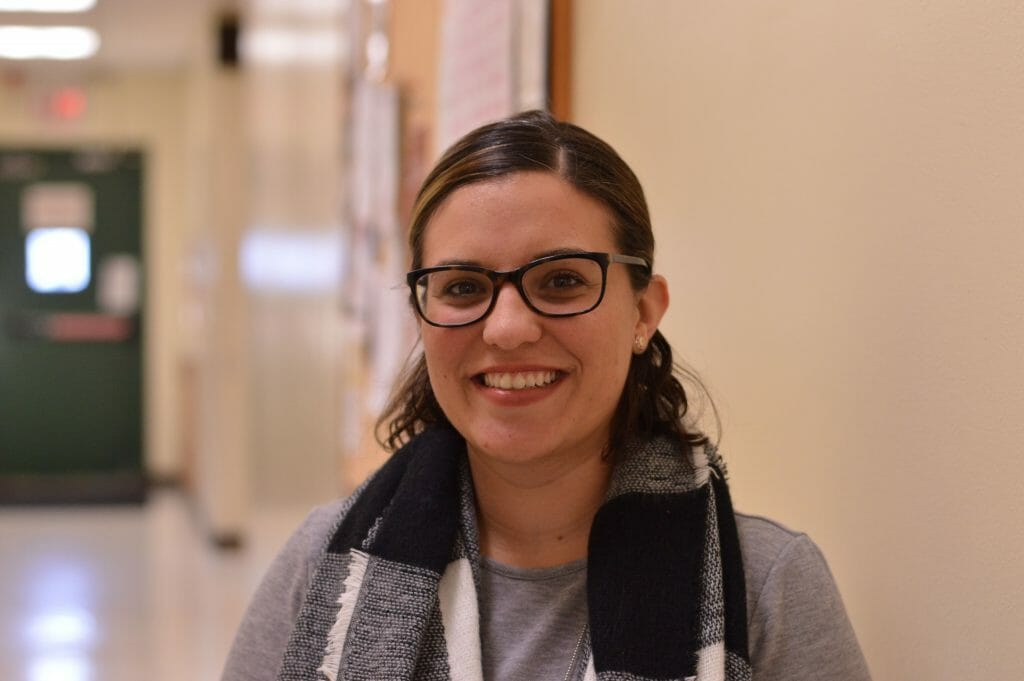 It's no secret that the COVID-19 pandemic has, in many ways, drastically altered how people work, live, and interact with one another. Alexa Donnelly, LCSW, '14, who is the Deputy Executive Director of Staten Island-based Person Centered Care Services (PCCS), as well as a CSI alumna and member of the CSI Alumni Association Board, has met her own virus-related challenges when it comes to caring for members of the community with developmental disabilities.
The Staten Island non-profit provides support services for more than 600 people who identify as having a disability, including developmental disabilities, mental health issues, and substance abuse disorders. Ffor PCCS clients with disabilities. PCCS provides apartment living for approximately 60 people who live in their own apartments, and group home living for a total of six people, with three people per home. In addition, there are also home and community-based services, including family home visits, a weekday Day Habilitation program, and employment services, as well as financial support, such as fiscal intermediary and brokerage services, to help people attain more independence in this aspect of their lives.
As a main goal of the services provided is to help those being served integrate more fully into the community, Donnelly said "this has been a challenge with NYC on Pause – we have had to find new creative ways to engage and keep active. It has been particularly challenging in the group homes due to regulations of no visitation from families and an overall expectation of isolation, even as the rest of the city is re-opening."
Another part of the learning curve for PCCS staff, has been the adjustment to working remotely. The challenge here was that many direct service staff had no experience with virtual platforms, and it was also difficult to set up these new systems. However, PCCS established an electronic health record, eVero, which was developed as an app to ease this transition. Donnelly stated, "this has now proved to be an efficient and creative way to provide support. We hope that this option is here to stay!"
In addition, PCCS has launched two innovations, telehealth and an approach called non-face-to-face, which involves doing tasks on a person's behalf. Examples include shopping for clients, picking up medication, and in more severe cases where people can't leave their homes, taking out their trash. She notes that "it gets planned out person by person to ensure their needs are being met, so it's a bit of a wide range of things we support someone with."
Of all the adjustments that Donnelly and her organization's staff have had to make, she noted that the most difficult one is ensuring that the organization has enough medical-grade supplies to care for its clients. "Our services are not often considered medical," Donnelly explained, "because we practice from a social model, so it was difficult to educate on the intricacies of the service and how crucial it is." Fortunately, she said that enough supplies have been obtained through partnerships with a number of community-based organizations, as well as through assistance from local officials and State offices. PCCS has also joined a sharing network with other service providers to ensure that everyone has the supplies they need.
Besides the improvements to the electronic health record, Donnelly pointed to another silver lining. "Our field has not upgraded its way of providing services in quite some time. We have not been given the ability to provide services in a telehealth method as well as a non-face-to-face version, which is important for our field to be creative, innovative, and keep up with the needs of the people we support."
She has also found a personal take-away from this experience. "I feel thankful and blessed to be able to provide support and assistance to so many people during this time. It has been a stressful and chaotic time, but also pivotal in supporting people."
By Terry Mares