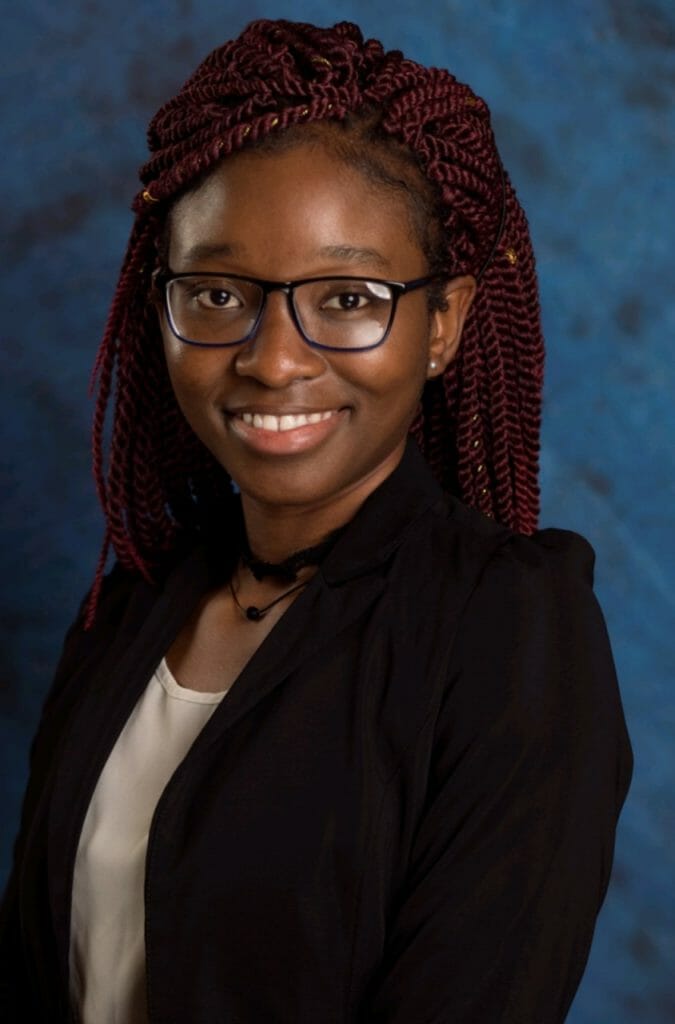 Nicole Agu, a current student in the Lucille and Jay Chazanoff School of Business who is notable for her many outstanding achievements and contributions to the School, the College, CUNY, and the community, has added another accomplishment to her résumé, having recently been named a recipient of the PSC-CUNY Belle Zeller Scholarship for 2020.
This scholarship, named for the founder of the CUNY Professional Staff Congress (PSC), recognizes students who demonstrate a combination of social commitment and scholarship. Agu, who is pursuing a double major in Accounting and International Business, embodies both of these attributes. Among other roles, she has served as the Vice Chair for International Student Affairs of the CUNY University Student Senate, Chair of the Club Commission, and President of the International Business Society at the College of Staten Island, and as a tutor in mathematics, accounting, and economics. She was also named to the Dean's List for her outstanding achievements in the classroom.
Professor Alan Zimmerman, who coordinates the International Business degree program and serves as the faculty mentor for the International Business Society (IBS), says that Agu was "one of the most dynamic presidents in the club's 20-year history." He goes on to note that she led the IBS in many interesting activities and hosted several fascinating speakers, and that "as a result of her leadership, the International Business Society was chosen as Club of the Year [in 2019]."
As a demonstration of her academic accomplishments, Agu met the requirements to join the College's chapter of Sigma Beta Delta (SBD), the international honor society in business, management, and administration, into which she was inducted in spring 2019. That same year, she was selected as a national recipient of a Donald H. Driemeier Scholarship from SBD, an award named for the founder of the organization. Agu represented the Chazanoff School of Business and the College of Staten Island at the annual Sigma Beta Delta conference in Philadelphia, PA in October 2019, when she was presented with her award.
Professor Patricia Galletta, Deputy Chair for Accounting in the Department of Accounting and Finance, also taught Agu in two accounting classes, and was able to see her dedication to her studies first-hand. Galletta notes that "Nicole spent time getting involved in her profession outside of the School by joining professional associations and entering accounting competitions, as well as taking advantage of all the opportunities CUNY offered."
The achievements noted above only touch upon Agu's activities outside of the classroom. She is generous with her time at the College, serving as "one of the best economics tutors the department has ever had," according to Dr. Simone Wegge, Professor and Chair of the Department of Economics. [Although Agu is not majoring in Economics, foundational classes in the subject are required as part of the core Business curriculum.] Aligning with her Accounting degree, Agu took advantage of the Volunteer Income Tax Assistance (VITA) internship program from the IRS, offered by the Department of Accounting and Finance, in which she assisted with the preparation of tax returns for low-income, elderly, disabled, and non-English-speaking taxpayers in the community. She also did volunteer work through the CUNY Service Corps.
In order to extend her network and develop her skills, Agu represented the College and the Chazanoff School of Business at the annual CUNY Women's Leadership Conference in November 2019; she is a student member of the National Association of Black Accountants, the National Society of Black Certified Public Accountants, the American Institute of Certified Public Accountants, and the New York State Society of Certified Public Accountants; and she was chosen from among more than 3,000 applicants to attend the 2020 national Goldman Sachs Women's Leadership Camp, held in Dallas, TX. She is currently interning at Deloitte, and will be starting a full-time position with Goldman-Sachs in Salt Lake City, UT, after she graduates this May.
Agu is also active in print and other media. She authored an article entitled, "A Traditional Business Plan Is Effective for Start-Up Businesses," which appeared in the Spring 2019 issue of the Chazanoff School of Business student publication, Get Down to Business, and was also featured in the September 2019 issue of the publication CPA Journal in a special section called "Future Professionals, in Their Own Words." In July 2020, Agu was interviewed on the Brian Lehrer Show on New York's public radio station WNYC, speaking about the potential impact of remote learning on international students.
Dr. Susan Holak, Founding Dean of the Chazanoff School of Business, comments that she finds Agu to be "an engaging and energetic person, who is curious about the world and how her personal contributions can have an impact on not only her own future, but the futures of those around her," and that she "consistently strives to achieve the best results in her classes and her co-curricular activities."
In her own words, Agu remarks upon her time at the College of Staten Island and the Lucille and Jay Chazanoff School of Business, saying that she was challenged to step out of her comfort zone and discover her potential. She continues: "Thanks to my professors, mentors, fellow students, and staff, I have experienced personal, academic, and professional growth. Reflecting on the past four years, I am most proud of taking advantage of opportunities that helped me become a scholar and a student leader who gives back to her College community. I hope to continue to inspire others through my story."
The faculty, staff, and students of the Lucille and Jay Chazanoff School of Business congratulate Nicole Agu on her significant accomplishments, and wish her well for continued success in her career beyond the College of Staten Island.
By Warrick Bell