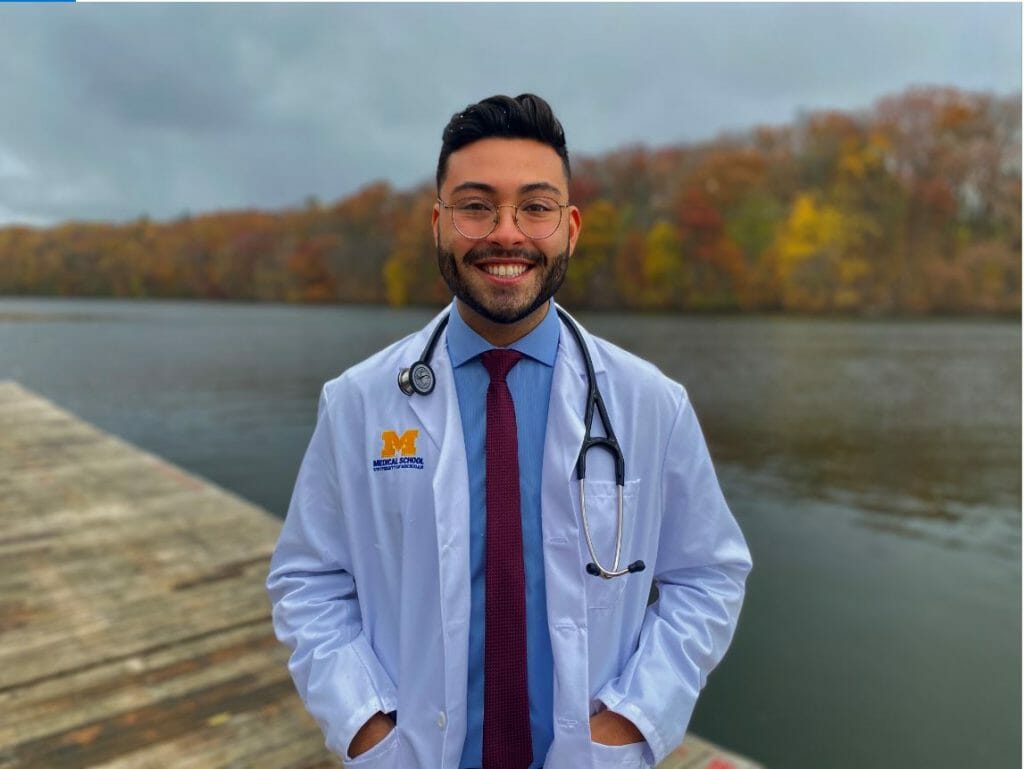 Marco Costanza '19, a first-generation and former Macaulay Honors College student, has been making quite an impact at the University of Michigan Medical School, after earning a BS in Psychology and Spanish at CSI, where he conducted research on income inequality and both cardiac and mental health.
At U-M Medical School, Costanza has been awarded a Dean's Scholarship, which provides him with the full cost of attendance for his MD and prospective MBA. Similar to his time at CSI, Marco has been heavily involved in many mentorship, DEI (diversity/equity/inclusion), and human rights endeavors.
He currently sits on the executive board of LANAMA (Latin American Native American Medical Association) as the chapter's Admission's Ambassador and Co-social chair with goals of increasing Latinx representation among the student body, mentoring Latinx undergraduate students at U-M, and fostering community among his classmates and undertaking community action campaigns.
Additionally, Costanza has been heavily involved in the University of Michigan Asylum Collaborative, a joint endeavor with the U-M Law School and Physicians for Human Rights. He serves as the executive board's Evaluations Coordinator where he assists in conducting free forensic medical evaluations and medical affidavits to survivors of persecution seeking asylum in the U.S.
Costanza also sits on the executive board for OutMD (U-M's LGBTQIA+ and straight ally identity group) as the Social Chair where he works on endeavors to create a safe space and fostering community for LGBTQIA+-identifying medical students.
Similar to some of the many mentorship programs in which he participated at CSI (CSTEP/ANY Fellowship) Marco is dedicated to giving back—he serves as a mentor for the Doctors of Tomorrow Program where he mentors underrepresented students interested in healthcare from the Detroit Metro Area.
Looking back on his CSI and Macaulay days, Costanza has many words of praise. In regard to Macaulay, he says that the honors college "provided me with an interdisciplinary education grounded in art, science, diversity, and social justice, which has influenced my outlook on the future of healthcare delivery and policy."
As for CSI, he adds, "CSI provided me with a world-class education, research, and opportunities at the national and international level, which helped me cultivate a diversity of thought and passion for healthcare equity that I yearn to share with my future patients and medicine at large."
After he receives his MD/MBA from U-M, Costanza says that he hopes to continue his work in DEI, human rights, and health disparities at the intersection of medicine and policy.