This is the third in a series of articles in CSI Today that will examine the professional effects of the COVID-19 pandemic on the College's Front Line Workers, and their determined efforts to ensure the safety of our campus. Operational Services is under the supervision of Hope Berte, Vice President for Campus Planning, Facilities, and Operations. VP Berte commented that "There are many staff in the division who should be recognized for their outstanding commitment and dedication during these unprecedented circumstances. All have worked under the direct guidance of each of the managers who are spotlighted in this series."
If you've ever received or sent mail at CSI, accepted a shipment, had something printed, or borrowed a College car to use on official business, you have benefited from the good works of Operational Services (OS).
As with all College offices and departments, the COVID-19 pandemic had its effects on OS, but as its Director Andrew Diaz, reports, many functions continued regardless, such as receiving incoming deliveries. That task now entails coordinating the timing to ensure that someone is onsite.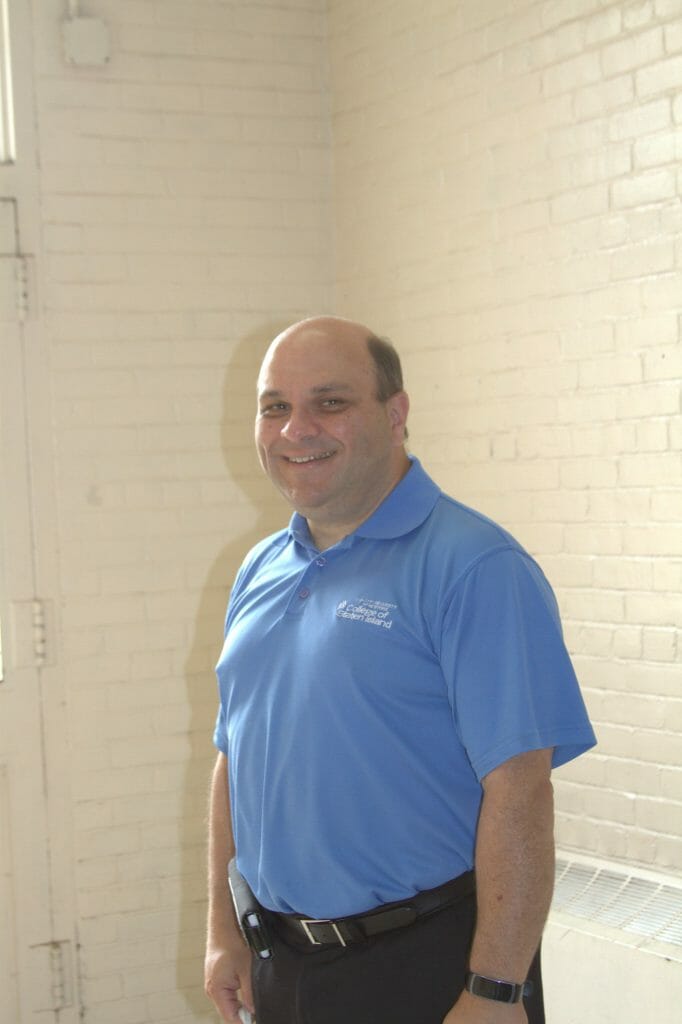 One of the office's new tasks has proven to be extremely critical to the continuation of teaching and learning during the remote environment that was necessitated by the pandemic—device distribution and returns. Diaz traced the steps and OS's involvement in the process. "Students faculty, and staff fill out a form and submit it. [CSI Curriculum Coordinator] Veronica DiMeglio sends me a spreadsheet, I import it into mine, and I assign a device with a CSI Inventory code, box, and label, and ship out the devices. When the device needs to be returned, the person notifies Veronica and she sends me the info, and I create a return label, scan it in, and send to her. She then sends it to the student. When the device arrives, I go back into the spreadsheet and mark it as returned. I then return it to IT to be added to their inventory."
Diaz added that in some cases, he had to meet people outside of the front gate if they didn't have access to the campus to accept and distribute devices and mail.
Throughout the pandemic, Diaz noted that his staff has continued to follow College/CUNY safety guidelines like wearing masks, washing their hands, social distancing, and regularly sanitizing equipment.
When asked if there were any bright sides for him and his staff, Diaz said, "Unfortunately not. We are getting a hands-free inbound package tracking system to maximize efficiency, but other than that it was business as usual for us. Our responsibilities are pretty simple, but they are required for CSI to function. We hope that the College community understands a little better what we do and what it takes to service them properly."
That being said, Diaz also expressed his feelings about being on the front lines. "I have always been a company man… I had no issues stepping up and doing what needed to be done to move the College along during this unique situation. To minimize exposure to my staff, I often undertook a lot of safety-related precautions myself to keep others out of harm's way. I felt safe because I followed all the protocols and was diligent in my daily routine."
By Terry Mares