College of Staten Island Alumni Katrell Lewis was recently named in Crain's New York Business 40 Under 40 Class of 2022 for his extensive and impactful work with Habitat for Humanity, a global nonprofit organization working with local communities in the U.S. and approximately 70 other countries where the nonprofit organization provided turnover impact that creates a path out of poverty and overall improvement in quality of life.
"I am extremely humbled and grateful that Crain's New York Business was willing to recognize me and the other amazing 39 individuals in the cohort," said Lewis. "I view everything as a 'we' and not a 'me', so me being recognized is also Habitat's recognition."
Seeking a professional family in 2016, Lewis applied to Habitat for Humanity and began his career as an Advocacy Manager. Working his way up the nonprofit housing organization ladder, Lewis was also promoted to Senior Advocacy Manager, Director of Advocacy, and ultimately became the current Vice President of Government and Community Partnerships for the organization, where he is motivated daily by emphasizing the pressing issue of affordable homeownership, specifically for underrepresented people in New York City.
"There are a lot of people in this city and in this country that are not in secure housing, and that has come to be a passion of mine," said Lewis. "I want these communities to know that I see them, I am one of them, and I respect their housing. I will do as much as I can to help them."
Lewis always had a passion for public affairs and was actively engaged within his own community prior to his career ventures with Habitat for Humanity.
Lewis was a student at CSI where he majored in Political Science and Government from 2008 to 2012. Although Lewis mentioned he was not the greatest student academically at CSI, he was actively engaged with the CSI community during his undergraduate years where he served on the CSI Association and chaired the CSI Budget Committee with the intention to utilize Student Activity Fees for renovating facilities on the CSI campus.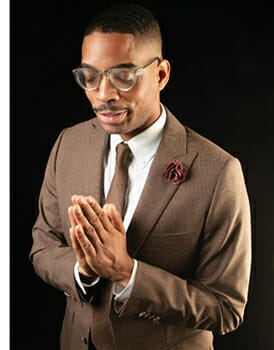 "For the first time, we really rehabbed the weight room in the gym at CSI," said Lewis. "I felt like it was my role to take the student affairs money and utilize it for what mattered."
The CSI alum did not hesitate to recognize two faculty members of the Political Science and Global Affairs Department who have been highly impactful in his advocacy efforts and accomplishments, thus far, since Lewis constantly went to them for encouragement within his field of interest.
"The two professors that I still keep in contact with were Professor Richard Flanagan and Professor Anat Niv-Solomon," said Lewis. "They have been very impactful for the work that I've done, they're my saviors."
Regardless of his great successes, the CSI alum takes pride in his education at CSI and shared insightful and inspirational advice to current CSI students based on his personal and professional endeavors.
"It doesn't happen overnight," said Lewis. "Learn how to not only succeed but fail as well while you still can, because the higher you go, the harder it will be to make mistakes."
Lewis will utilize his recognition from Crain's New York Business 40 Under 40 Class of 2022 and his position as Vice President of Government and Community Partnerships at Habitat for Humanity to be a continuous advocate for building affordable housing units for communities who suffer from insecure housing in New York City and construct a better future for future generations.