Right before the Thanksgiving break, WSIA received a visit from three alumni and titans of the station dating back to its debut, taking in the facility located within the Campus Center and then holding a discussion with station members, reflecting on WSIA's storied history.
Ron Resnick, Greg Adamo, and Rosemarie DiSalvo were on-hand to talk to current students and station members, and the event was recorded for archival posterity on some of the radio station's earliest days.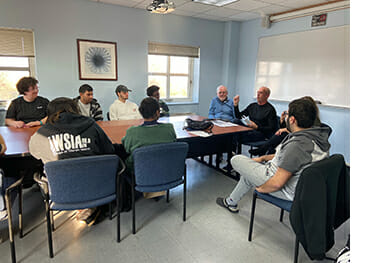 Resnick started the discussion, reflecting on his attendance at CSI as a transfer student with ambitions in radio. He found out about WVSI, at the time the call letters for CSI's radio station that occupied a former janitorial closet at what was then CSI's Sunnyside campus (what is now the Michael J. Petrides School). The station had been left in ruin, with equipment damaged or stolen, and Resnick reflects on how he and nearly 25 brand-new students were tasked to lift the station up from the ashes and secure its licensing in the late 1970s. The station's call letters were changed to WSIA, the SI emblematic of the station's call to serve all of Staten Island, and the A to represent the top grade earned at the College, a testament to how the newly branded station wished to conduct itself.
"We wanted to be taken seriously, and to build the trust of the school, that we were serious about building a real radio station that was dedicated to serving all of Staten Island in the best possible way," Resnick said.
Resnick was successful, using Student Activity Fee funding to help build the station and relocate it to an established studio to be built on the campus. Much of this involved teaming with DiSalvo, at the time Student Government President. She was instrumental in helping advocate for the station at a time when it was under major scrutiny and many on campus had stopped believing in the station's effectiveness and viability.
Soon, WSIA established itself as a reputable media outlet and campus representative, and Greg Adamo was brought on in 1980 as the station's first full-time station general manager. Adamo worked with Resnick to perfect operations within the station, and WSIA enjoyed more than two decades of prosperity with Adamo at the helm. Adamo spoke of those days and the day-to-day operations of the station and how far the team had come, something he also did this past summer when WSIA held a milestone celebration which, because of COVID delays, was renamed the "40th/41st Anniversary." This event was attended by over 50 WSIA alumni, many of whom have gone on to careers in radio, television, teaching, law enforcement, and firefighting, each of whom shared stories of the life-changing experience they had at the radio station.
After a Q&A segment with members of the station, many alumni from the station got together for dinner that evening, where plans for assisting the station with a 45th anniversary celebration in 2026 were discussed.
Since the COVID shutdown, many at the station have been working on a WSIA archival project, that documents the station's history through the years with photos, video, and an oral history. Last month's discussion will be a part of that record, and WSIA hopes to do more of these informative discussions in the future. It is clear that WSIA has offered a promising start to many successful professionals, in radio and beyond.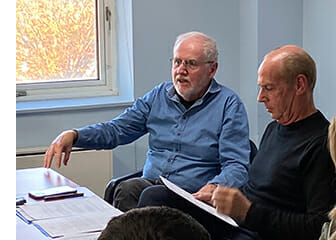 After graduating from CSI, Resnick took a part-time position with WHTG-FM in Asbury Park on weekends for ten years, supplemented with a full-time National Sales Manager position for a major manufacture in the video game industry. Thereafter, he started his own business as a "start-up" expert for companies looking to break into the retail market, served as VP of Business Development with Verizon and National Sales Manager for local Karaoke company "The Singing Machine." He currently serves as Director of Sales for a portable solar generator company "Geneverse," and resides in Fort Lauderdale, FL.
After graduation, DiSalvo became a DJ at WHTG-FM and then, a story producer for WNYC's Small Things Considered and NPR's Kids America. She went from DJ to VJ as the producer and host of the first live, all-request music video show, American Hot Video, which was nationally syndicated for four years. Now a Writers Guild of America Award-winning writer and triple Emmy-nominated producer, DiSalvo has worked creatively on more than 40 television series for networks including ABC, NBC, CBS, Fox, MTV, TRVL, History, Discovery, TLC, and TruTV. She currently writes and produces Jay Leno's You Bet Your Life and resides in Venice, CA.
Gregory Adamo, PhD, recently retired as Professor in the School of Global Journalism and Communication at Morgan State University in Baltimore. He is the author of African Americans in Television: Behind the Scenes, and co-editor of the book College Media: Learning in Action. Dr. Adamo has published book chapters on The Wire and Baltimore, film and racial identity, and teaching about race and media. After first teaching as an adjunct instructor at the College of Staten Island, he went on to teach full time at Richard Stockton College and then Morgan State University.