The future seems bright for CSI Computer Science students Irma Barrios, Madison DeGrezia, Victoria Jaczynski, Unaiza Nizami, and Melissa Poggioli, five Women in Technology students, two of whom are participating in Commencement tomorrow, who have used their studies to gain valuable integrative experiences in the workplace and are career-ready.
For Jaczynski, who graduates tomorrow, and Nizami, who graduates in December, the first step toward of successful college career started with the Women in Technology (WIT) club, a club that they founded at the College.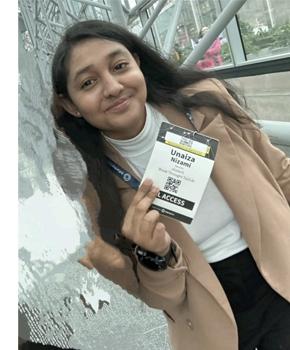 "I never thought I would have started a club at CSI," said Nizami, who started the club in 2020 with friends. "I had the role of the media manager. Creating a comfortable and supportive environment to highlight Women in Tech was one of my favorite parts of my CSI experience. I am glad that I was able to put together [the club] with my friend, especially during COVID. The club gave us a place where we can connect and network with peers."
Starting the club opened a world of possibilities for the women involved. Nizami has landed multiple internships that she is using to build her career acumen and Jaczynski has landed a full-time position with Select Equity Group financial services.
Melissa Poggioli, who also walks at Commencement tomorrow has secured a position with Healthfirst, excelling on the Women's Swimming and Diving team, as well during her days at CSI. Her launch to full-time employment began with an internship at the Hospital for Special Surgery.
"When I did my first internship at the Hospital for Special Surgery, I learned that there were so many possibilities for people who have degrees in Computer Science," Poggioli explained. "I always thought that Computer Science majors became software engineers and did a lot of coding work, but there are so many different technical positions that help keep the tech side of a business running. After this internship at the hospital, I knew that I wanted to work in health tech because it would be my way of giving back and helping others."
DeGrezia, a junior at CSI who has already completed multiple internships, recalled a class that she took as being a springboard to a future in the industry.
"I was very shy at first in my classes because there were predominantly male students, and I was experiencing imposter syndrome. However, I remember my professor for CSC 326 would constantly call on me in her class and it made me more confident as a student to participate in my Computer Science courses," she said. "I remember after I took her final, she expressed her gratitude for always participating in her class. This was a meaningful moment in my college career and has shaped me into the confident student I am today."
As for the first-year student of the group, Barrios has done a lot in the very little time afforded to her, so far, here at CSI, already having completed a successful internship at the Barclay's Center that she hopes to parlay into a career in the industry, a position she earned through Break Through Tech, a program that works with college campuses to propel women into computing degrees and tech careers.
"I still have a bit to go in my college career, but so far, one big thing was working at Barclays," she stated. "(CUNY 2X Advisor) Kristi (Brescia) made me apply for it and I didn't want to get my hopes up in case I didn't get it, but I did! That's why it's important to apply, the worst thing you can get is a 'no.' But during my time in that internship, I realized how different the office world would be to what I thought it was."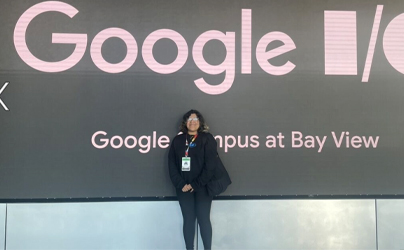 Many of these students are hoping to follow in the footsteps of some exceptional Computer Science alumni who continue to break significant ground as women in the profession. Recent alumna Gianna Gallard is currently working as an Associate Software Engineer at Lowe's headquarters in North Carolina after successfully completing an internship there.
"During my college years, I was involved in various extracurricular activities, including Women in Tech. These experiences helped me grow as an individual and a professional, and I'm grateful for the opportunities that came my way," said Gallard. "I won first place at Demo Day for our Web app, 'CSI Student Showcase', and I also won Best Presentation at the Hack-a-Project hackathon. I'm incredibly grateful for the opportunities and experiences I've had so far. Today, I continue to learn and grow as a developer at Lowe's, surrounded by many talented individuals. My advice for other women in tech is to step out of their comfort zones, seek new opportunities, and never hesitate to ask for help. With hard work and dedication, anyone can achieve their goals in the tech industry."
All of these women have had people during their time in college who have helped them along the way, and they do deserve recognition for shaping these young women into the successes they are now.
"Professor Zaid Al-Mashhadani was such a fun and helpful professor," Barrios noted. "He made coming into a classroom less scary for someone who had zero knowledge in coding and made it more exciting."
"There were so many professors who helped with my journey and my career with tech, such as Professor Ping Shi and Professor Tataina Anderson," said Nizami. "They were some of the first professors I took in my freshman year; they helped me with learning some of the important fundamental skills in programming, and it motivated me to continue my journey in computer science."
"My professor for many of my classes, Louis Iacona, has given me advice for interviews, was always helpful, and made sure that you understood what he was teaching," Jaczynski recalled. "He will go the extra mile for a student if it is extra help or writing a letter for them."
"Professor Anderson helped to run a project where I learned how to use the agile methodology," Poggioli explained. "This has been an important skill to have on my résumé as I applied to jobs. Professor Susan Imberman and I worked on research together during the fall semester. She helped me learn new skills and techniques for completing a research paper and project. Advisors Kristi Brescia and [the Macaulay Honors College's] Anita Romano have always supported me when searching and applying for job and internship opportunities."
"Throughout my college experience at Macaulay CSI, I have had such amazing professors who have helped me along my academic journey," DeGrezia said. "Three professors who have profoundly impacted me are Dr. [Deborah] Sturm, Professor [Richard] Weir, and Professor [Matthew] Gargano. Dr. Sturm was my teacher for CSC 326 Data Structures, and she always encouraged me to participate in her class. She knew that the class was difficult for some, so she made a constant effort to help everyone and prioritize her students. Professor Weir was my teacher for CSC 330, and he was a phenomenal teacher who really taught us the fundamentals of Object-Oriented Programming. He always took the time to make sure that everyone understood the material he was teaching. Finally, Professor Gargano has also had an impact on me throughout my academic journey by sparking my interest in Web development and wanting to become a front-end developer."
DeGrezia added a bit of advice for future Computer Science students. "I would advise the incoming freshmen to not be shy to ask their professor any questions, as they are there to help them succeed on their academic journey. I would also tell them to consistently speak with their advisors and vocalize what their interests are career-wise, so they could better understand what opportunities to forward their way. It is always important to plan ahead, and it is beneficial to get an internship sooner than later. Internships are meant to give you experience in a professional setting and help expose you to the career path that you are looking to pursue in the future. They are very helpful in giving you clarity of what you want and don't want to do as a career."
Cover photo left to right: Melissa Poggioli, Madison DeGrezia, Unaiza Nizami, Victoria Jaczynski
By: Vinny Masocol