Business Insider, a global leader in aggregating, reporting, and analyzing the top news stories across the Web, teamed with the academic ranking and review service Niche, to compile a list of the country's "most underrated colleges."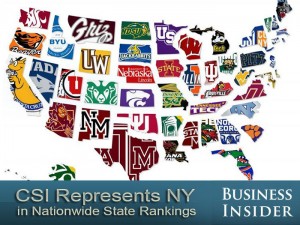 "Oftentimes, these schools' strong academic programs are overshadowed by the popular perception that a college is better if it's tough to get into," Business Insider reports, adding "these colleges challenge that myth, and are smart — and potentially safe — options for student applicants."
The College of Staten Island (CSI), a senior college of The City University of New York (CUNY), was the only college chosen in New York State, one of 50 nationwide, to be included in the rankings.  It is the third national ranking for CSI in as many years.
Other prominent schools named to the list includes: University of North Carolina, University of Pittsburgh, University of Maryland, West Virginia University, American University, University of Connecticut, University of Delaware, Washington State University, University of Montana, Seton Hall University, University of Massachusetts-Lowell, and University of North Georgia.
"This article suggests that all students, even ones with the highest entrance scores and most impressive applicant portfolios, should consider attending one of these institutions," notes Dr. William J. Fritz, Interim President at CSI, adding "I am familiar with all of the other 49 institutions on the list, and we have been placed with some very prestigious company."
Read the full article at businessinsider.com>
"Business Insider and Niche have developed a new ranking model that levels the playing field for public college's such as CSI," Dr. Fritz states, "taking into account the breadth of opportunities available and the commitment to the students of our community."
CSI, home to nearly 15,000 students, was named for the first time as one of America's Best Colleges in the North by U.S. News & World Report in 2013, and one of "America's Best-Bang-for-the-Buck Colleges" by Washington Monthly magazine in 2012.
"Recognition leads to confidence by others in our academic mission, which translates into the confidence to invest in resources for faculty and students," Dr. Fritz concluded.
The rising national profile of CSI is well-timed as the College recently launched the $20 million "Campaign for CSI: For College and Community" to raise much-need funds for faculty support, student support, capital and construction projects, and increasing the College's endowment.
Business Insider was launched in July 2007 by DoubleClick founders Dwight Merriman and Kevin Ryan, and former top-ranked Wall Street analyst Henry Blodget. In 2013, Amazon.com founder Jeff Bezos invested $5 million in the "leading online business news site for the digital age."