College of Staten Island Professor and Chairperson of the English Department Lee Papa was one of the three contestants to appear on the national television game show Jeopardy, on Wednesday evening, taking away an amazing and memorable experience from what was his Spring Break trip to Los Angeles. Papa, unfortunately, missed the final Jeopardy question but left with positive feelings from the experience.
"Everyone I met and the experience I had was just great," said Papa after his show debut. "My fellow contestants were terrific, and being on the show was surreal."
It took a stroke of good fortune for Papa to land a spot on the show. On the advice of his partner in 2021, Papa responded to an online call for a College Professors Tournament that Jeopardy was sponsoring at the time, making it all the way through to be in the contestant pool, and when he wasn't selected, he forgot about the tryout until receiving a text from show producers earlier this year asking if he would want to participate.
"It was the last thing I was expecting, but in March I got the call and so we made plans to go to Los Angeles," he said. Papa did a little studying on his own to prepare for his appearance, but admits there are elements to the game that make it far more difficult than simply being able to answer questions.
"It's way harder than it looks," he said with a laugh. "Perhaps the most difficult part is the reaction time and the timing of the buzzer. The window to answer is so small and you have to strategize while in the game, framing what you want to answer to make sure you get to Final Jeopardy. The advice I would give to anyone is to spend more time on reaction time rather than what you know."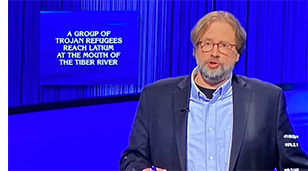 Papa did very well on the show, answering 80% of his responses correctly (12/15). He amassed $4,600 after the first two Jeopardy rounds, but finished with $3,199, after missing on the Final Jeopardy question with a $1,401 wager. "My brain betrayed me on that one, I admit," he said of the question within the World of Water category. "I knew the answer but thought it was too easy and a trick question. So, I went with the wrong answer."
Returning-champion Ben Goldstein answered the question correctly to retain his crown. Still, Papa has no regrets from his appearance, other than not being able to share it with his partner's late mother, a Jeopardy enthusiast, who passed away several years ago. "She would have been thrilled," he said. "She loved the show."
Every year, more than a 100,000 people audition to be a part of the show and only 400 make it. "It's a crazy experience, but it's one I'm glad to have had," Papa said.
For more on Jeopardy, including a recap of Wednesday's show, visit the Jeopardy Website.