Near the end of the Spring 2023 semester, CSI's Creative Exchange program celebrated very busy and meaningful fall and spring semesters with its End of Year Party, which hosted more than 50 students, their families, and care-giving staff. Each student was recognized with a certificate of completion. At the event, which was held last May in the Sports and Recreation Center Small Gym on the College's Willowbrook Campus, administrative staff member Angela Ramos, who works tirelessly to ensure the students in the lifelong learning programs receive a fulfilling experience, was presented with the OCEE Anchor Award. The award recognizes those who help the program achieve its mission and are committed to the long-term well-being of the College and the community. Music was provided by DJ Fire Wheels, Munir Thompson, a Queens resident and virtual student in the program.
Established in 1975 exclusively at CSI, Creative Exchange is one of the first post-secondary programs of its kind nationally, serving adults with intellectual and developmental disabilities (IDD) in a non-degree lifelong learning program. There's a direct line between this program's creation and the local parent advocacy, which ushered the closure of the Willowbrook State School. Creative Exchange also offers a more demanding non-degree lifelong learning program for adults with IDD called Life Skills, whose mission is to further develop independent living competencies. Through educational and social initiatives, the program fosters a unique, safe, and collaborative environment for personal growth and community-building, regardless of ability, as part of CSI's Legacy of Place initiative.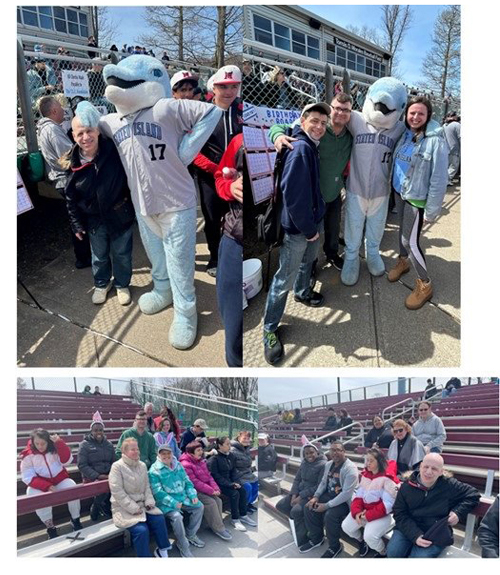 Underscoring the significance of the program and the impact that it has on its students, the program's Crystal Montalvo noted. "Creative Exchange generates learning experiences that feature and further cultivate the many strengths and talents our students bring to our program."
This end-of-year event was only the tip of the iceberg for a very ambitious and productive 2022-2023 academic year. To further enhance students' experiences, the program launched a series of student-led workshops. The first was conducted by student artist Tea Moscioni, where she led her peers through a virtual Halloween mask-making activity. Each participating student was provided with an art kit to ensure equal access to the workshop's learning content.
The second workshop was in-person and conducted by a student who is employed as an On Your Mark chef by day, Robert Kranpost. In CSI's Park Café, Kranpost led a hands-on meal preparation workshop in which each student made their own turkey sandwich, salads, and salad dressing the week leading up to the Thanksgiving holiday.
Efforts were also made to further integrate Creative Exchange students into the fabric of the campus with participation in CSI's Sustainability event series under the leadership of the College's Urban Policy Analyst Nora Santiago, alongside CSI students and athletes, assisting with campus clean-ups, planting, and composting.
This spring, some new Creative Exchange events included a St. Patrick's Day celebration, as well as two additional student-led workshops by Michael Devaney and AnnMarie Corazza. Corazza led virtual and in-person mindfulness and meditation workshops for the program community, and Devaney, a film critic, guided his peers virtually through the 100-year history and contributions of the Warner Brothers. Students also attended CSI's Hero's Baseball Game on Apr. 8, where they enjoyed the rich athletics and community experiences that the College has to offer, as part of Robert Yurman's course, one of the original instructors of the program.
In addition, five Creative Exchange students printed and distributed the program's first children's book written by the student authors in the program's "Everyday Writing for Future Authors" class, titled Once upon a Time in Staten Island. With guidance from their instructor, Lenore Marchese, the students created stories of their experiences in places that were meaningful to them in their community. Assembled together, and with support from a graphic designer, these stories became an artists' expression of what's possible. Our student authors noted feelings of joy and self-confidence that the experience elicited. Jeffrey Mamet said, "It made me feel good about myself and it was fun…" Caroline Rafanan added, "It was a good feeling and I loved being a writer…"
Finally, Creative Exchange students participated in Staten Island's World's Largest Puzzle Piece event at SIUH Community Park, where participants received recognition from the Guinness Book of World Records. Students, their friends, and families celebrated the success of this historic record breaking at the neighboring CSI St. George.
For more information on Creative Exchange, please go to the program's Website. The Creative Exchange program is generously funded by the New York City Department of Health and Mental Hygiene.
By Terry Mares and Crystal Montalvo