For the 16th year in a row, the College of Staten Island Baseball program donated its weekend preceding the Thanksgiving holiday to team up with Teddy Atlas and the Dr. Theodore A. Atlas Foundation for their annual Thanksgiving Meal Drop in West Brighton.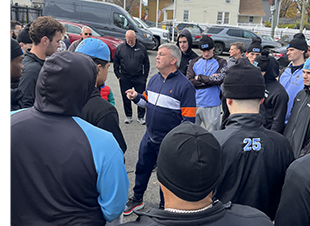 As in the past, the CSI unit was on hand unloading trucks full of Thanksgiving fixings, over a thousand meals in all, to food insecure individuals and families on Staten Island and beyond. The event is an important one for Head Coach Michael Mauro and his team, who were recognized last week with a Service Award from the Atlas Foundation at their annual dinner. It is the longest running community service project in Athletics.
"This is our 16th year that we have been handing out Thanksgiving turkeys and sides for the Atlas Foundation," Mauro noted. "Teddy is a remarkable man that just continues to give. We represent the College of Staten Island, which means we represent all of Staten Island in supporting this cause. I am proud and humbled by the work put in by our players the last two days distributing this food to those in need. We are very proud to be involved and to respond to the needs of our community."
Third-year student Anthony Sutera has been a part of the haul each of his three years with the team, and understands how valuable the support is. "It's just a beautiful thing to do. To come out as a team, being able to help others; It doesn't really get much better than this, especially around this time of year."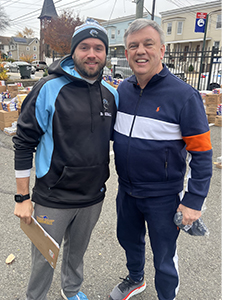 The Dr. Theodore A. Atlas Foundation is a Staten Island-based community service organization that provides financial, legal and emotional support to individuals and organizations in need, and focuses particularly on the needs of children. It was founded in 1997 by boxing trainer and commentator, Teddy Atlas, in order to honor the memory of his father. In the spirit of Dr. Atlas, who provided free medical care to those who could not afford it and made house calls to give personal care to his patients until he was 80 years old, the Foundation has attempted since its inception to ease the burden of the less fortunate among us. And it accomplishes this in a very human way, in a way which preserves the dignity of the people it helps.
Congratulations to CSI Baseball and the Foundation for continuing this great partnership. To find out how to support the Atlas Foundation, visit their Website.