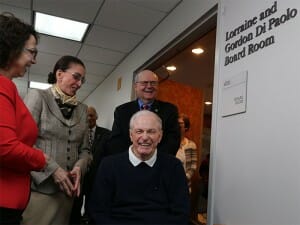 After months of extensive renovation to what was formerly called the President's Board Room, located on the fourth floor of Building 1A, CSI President William J. Fritz, Provost Gary Reichard, College Vice Presidents and Deans, and other distinguished members of the faculty gathered to inaugurate the new state-of-the-art meeting space, the Gordon and Lorraine Di Paolo Board Room.
Thanks to a generous grant from Lorraine and Dr. Gordon Di Paolo, the facility now boasts furniture and technological upgrades, including new tables and chairs, as well as a new sound amplifier and speaker array, a wireless microphone system, and enhanced high-definition telecommunications functionality, which are all connected to a powerful and unified audio-visual processor unit that is operated via a wall-mounted touch panel.
Khatmeh Osseiran-Hanna, Vice President for Institutional Advancement and External Affairs and Executive Director of the CSI Foundation, warmly welcomed guests by highlighting the Di Paolos' "lifelong commitment to students through scholarship opportunities and contributing to the excellence of the CSI experience." She noted with pride that Dr. Di Paolo joined the faculty in 1971, earned the Dolphin Award for Outstanding Service and Contribution to the College by a Member of the Full-Time Faculty in 2015, and is now the College's first one-million-dollar lifetime benefactor.
Dr. Fritz continued, underscoring the long history of support that the College and its students have received from the Di Paolos, "This room represents but a part of the ongoing generosity and support that Gordon and Lorraine have shown for our students, and our College over the years. We also have them to thank for the Gordon and Lorraine Di Paolo Overseas Scholarship and the Di Paolo Commencement Awards in Marketing and Management, which, respectively, broaden our students' worldviews and global experience, and ensure that they complete their degrees so that they may fully pursue their professional goals. They have also established other scholarships and provided funds for disabled students; the College, in general; and other critical initiatives. For their enormous contributions, they were honored in 2009 at the First Annual Celestial Ball with President's Medals."
"Today is a tribute to all of you. I have worked forty years as a classroom teacher and I loved the challenge of making the material interesting. Now, as a part of the governance and leadership team, I discovered that CSI has the most impressive, hardest working and brightest people I have ever met. Your warmth nourishes me and my soul, and I thank you for that," commented Dr. Paolo, as a retrospective slideshow from his personal and professional life graced the large monitors encircling the room.
"Lorraine and I are very fortunate," he continued. "We both have jobs we love and are surrounded by people we respect. But we do not have our own children… the students at the college are our kids, and we are pleased and proud to support them as if they were our own. Thank you."