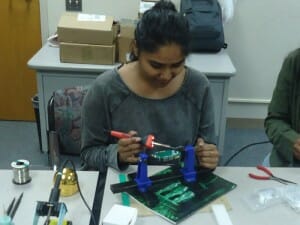 Watch out! Sharmin Pathan '19 is taking on the world of science full throttle. Studies show that about 20 percent of engineering graduates are women, in which only 11 percent are practicing (Huffington Post). Hoping to make up the latter, Pathan, the 2017 National Grid scholarship recipient is taking an active role on campus to ensure that these figures become a thing of the past.
The 20-year-old Yonkers resident is currently the chapter president of the Society of Women in Engineering (SWE), and is in the process of starting her own SWE club. While some may find themselves overwhelmed with the responsibilities of leadership and time management, Pathan has extended herself beyond one activity to encourage other females to pursue their interests in fields that might otherwise shut them out. Pathan is currently a participant in SWE's Satellite Design Project in which she lends her talents to 3D rendering of various satellite system components and research on the pico-satellite's structures and mechanisms.
The Yonkers High School graduate is currently an intern for CSI's Science and Technology Entry Program (STEP). STEP is a Saturday program that helps students from grades 7 through 12, who demonstrate an interest in fields of science, health, engineering, education (math and science), technology, and other licensed professions. As a participant, Pathan has assisted seventh and ninth graders in the Engineering field which she feels helps "encourage" and "inspire" them. She credits this opportunity and experience to STEP/Collegiate Science & Technology Entry Program (CSTEP), project director Debra Evans. Pathan feels as if the program has given her "the confidence to be more involved with students and encourage them to join STEM field majors."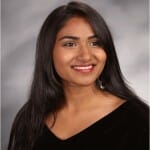 Similarly, the Engineering Science major has been an asset to the program and community, as director Evans notes, "Bringing Sharmin Pathan into the lives of our youth was the best investment for the STEP program.  Sharmin has taken our seventh through ninth grade students on a Satellite journey, and our students are eager to attend the STEP program each Saturday morning. Thank you Sharmin for bringing academic excitement into the lives of our youth."
Newly appointed CSTEP program coordinator Karl Francis has taken note of Pathan's hard work and growth as a member of the College. Based on their previous experience, he recalls, "I've known Ms. Pathan in a number of different capacities, over the last couple of years as a member of the College of Staten Island SWE chapter, mechanical engineering research student on the Satellite design project, and within the last few months as a CSTEP Scholar; through all these experiences, Ms. Pathan consistently demonstrates, a commitment towards her academic, research, and career goals and a level of professionalism that not only gives rise to impressive results, but inspires others to do the same. This consequently, makes her a natural leader and excellent fit as the new CSI Chapter SWE President!"
Though she is incredibly active here on campus, the sophomore isn't limiting her efforts to the CSI community. Born in Gujrat India, Pathan is still looking forward to studying abroad, preferably in Germany. While she continues to pursue her Bachelors, and subsequent Masters, Sharmin still finds time to reflect on her experience at CSI thus far which has sparked her own hopes to carry out philanthropic efforts. She states, "CSI has offered me so many outstanding opportunities to gain critical experience in my field. As I continue to get that support, one day, I hope to be in the position to give something back as well."
In intensive fields where women often appear as hidden figures, Pathan and future counterparts to come, act as flashlights to a new path.