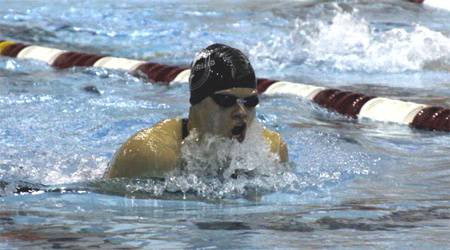 The College of Staten Island's cluster of five 2012 NCAA Division III National Championship qualifiers finished in impeccable fashion at this year's Final at the IU Natatorium in Indianapolis tonight, CSI senior Vladislav Romanov took home his first medal, claiming silver in the 200-yard Backstroke, as the Dolphins came in 10th overall at the conclusion of the event, their highest faring ever.
CSI was involved in three total events on the fourth and final day of the championship, with preliminary rounds beginning in the morning.  Romanov got things started, and the senior knew he had a good opportunity in front of him, seeded eighth overall among the 34 competitors.
Romanov shined in the morning, shattering his own school record with a race time of 1:47.74, good enough to catapult him to 4th place after the morning heat, putting him in the evening's medaling heat.  Once there, Romanov knew he had a shot with a great performance at a medal, and the senior pulled through.  Romanov stayed neck-and-neck with the top five racers, and then pulled ahead the last few lengths to race in at 1:46.79, a new CSI record.  The time was second only to Denison College's Robert Barry, who broke the NCAA record by racing in at 1:46.23 to win gold.  Romanov's medal was CSI's top finish at this year's championship and his personal top finish after four distinguished seasons with the Dolphins.
CSI wasn't through there, also earning points in the 200-yard Breaststroke.  Both Andrey Tarasov and Timur Rakhimov qualified after morning preliminaries to advance into the evening heat, and although Rakhimov was disqualified, Tarasov posted an impressive 2:03.05 mark, his personal best, to finish 10th in the field, bettering his seed time by 1.53 seconds.
CSI's foursome in the 400-yard Free Relay was scratched.
The Dolphins points earned on Saturday bumped them up to 98 overall, good enough for 10th overall, their best ever faring on the heels of last year's 13th place finish.  Romanov joined Danila Novikov as CSI medalists at this year's championship.  Novikov earned a bronze medal on Wednesday in the 200-yard Individual Medley.