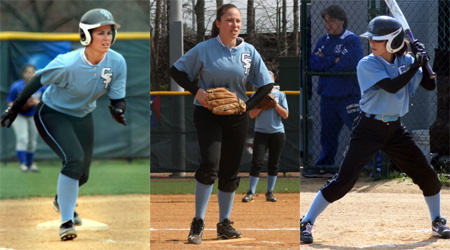 The College of Staten Island women's softball program capped a 3-1 week last week by seeing three of their stars earn CUNYAC weekly honors.  Senior Kaitlyn Flynn nabbed Player of the Week honors while fellow senior Danielle Ponsiglione grabbed the Pitcher of the Week citation.  Freshman Brittany Smith capped her spectacular week with her second Rookie of the Week honor as well.  CSI split a doubleheader with New Jersey City University before sweeping a weekend set with York College.
2011 CUNYAC Player of the Year Flynn is not a newcomer to her award.  The senior is on the heels of her finest season, and ripped the competition to the tune of a .533 batting average, going 8-for-15 at the plate with 9 RBI and five runs tallied.  Flynn also recorded a triple in each game last week and was a homerun away from hitting for the cycle in a 16-1 win over York on Saturday.  The stalwart at third base also hit a pair of doubles and was walked once, while recorded a perfect-1.000 fielding percentage in 21 total chances.  This season, she leads the squad in RBI (18), slugging percentage (.764), doubles and triples (5).
Ponsiglione, the conference's Pitcher of the Year in 2011, is off to a solid start in 2012.  The senior capped a great week last week, going 2-0 with a 1.98 ERA in 13.2 innings of work.  She tossed a complete-game, 8-3, against NJCU, fanning five batters, then struck out six in an 8-1 win over York on Saturday.  She surrendered only two extra-base hits, and did not walk a batter.  For the season, Ponsiglione sports a 4-1 record with a 2.50 ERA, she has struck out 27 batters in 36 innings of work, surrendering only five walks.
Freshman sensation Brittany Smith is in the middle of a stellar initial campaign for the Dolphins.  The lightning-fast outfielder routinely converts singles into doubles and triples, as evidenced by her inside-the-park three-run homerun in a come-from-behind victory over NJCU last week.  Smith blistered opposing pitchers with a .733 batting average (11-15), posting 9 RBI and 9 runs scored.  The freshman also registered a double and was stole six bases on the week.  Her four steals alone in game one against York tied a CSI single-game record.  For the year, Smith is pacing CSI in at-bats (58, batting average (.500), hits (29), runs scored (22), and stolen bases (17).
After a doubleheader split with Hunter College on Monday, CSI will face off against SUNY-Old Westbury on Tuesday at 5pm at the CSI Softball Complex.